25th Anniversary Veterans Pilgrimage to Falklands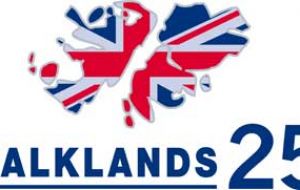 The coming week SAMA (South Atlantic Medal Association) 82 and Combat Stress 25th Anniversary Pilgrimage will be flying to the Falkland Islands with around 250 veterans and next of kin or family members of some of those lost in the 1982 South Atlantic conflict.
The SAMA Falklands 25 Newsletter reports that pilgrims will spend a week in the Islands to pay their respects to fallen comrades and to help with their own healing process, sadly still an issue for many twenty five years later. Pilgrims will be on the Islands for Remembrance Sunday on the 11th November. The Commemoration Pilgrimage was hugely over-subscribed and a number of applicants who wished to go sadly could not. SAMA82 in conjunction with The Falklands Veterans Foundation now intends to run future pilgrimages each year from 2008. Both Charities in association with other major Ex Service Charities are to fund "Project Stanley" a house/hotel in Stanley for the future use of pilgrims. On behalf of the pilgrims SAMA82 and Combat Stress extend their many thanks to everyone who has supported the organizations and helped to achieve their aims.