Populist general joins Paraguay's presidential election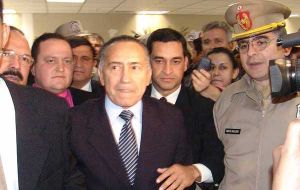 Populist former Paraguayan Army General Lino Oviedo was cleared on Tuesday by the country's Supreme Court of a mutiny conviction clearing the way for him to compete in April's presidential election.
Caravans of cheering supporters drove through the streets of Paraguay's capital Asunción early Wednesday to the honking of horns and chants of "You can feel it! Lino president!" The court gave no explanation for its ruling, which, unusually, was released late at night on Tuesday. Oviedo had been sentenced to 10 years in prison for mutiny after he disobeyed a presidential order to surrender command of the Army in April 1996 and holed up in a barracks with supporters, sparking fears of a coup. He denies he planned to topple the government. Oviedo was unexpectedly released from prison on September 5 about halfway through his sentence and he immediately began laying plans to seek the presidency. But opponents argued his conviction made him ineligible to run. The court ruling removes the last roadblock to a presidential bid. Oviedo has already begun the process of registering for the April 2008 election and his small opposition party, the National Union for Ethical Citizens, is expected to name him its candidate in January. That could split opposition factions that have been trying to unite to topple the Colorado Party, which has governed for six decades without interruption. The other leading opposition candidate is former Catholic Bishop, Fernando Lugo who until the irruption of former General Oviedo was ahead in public opinion polls. Oviedo, a right-wing populist who had a big following with poor peasants and speaks Paraguay's Guarani Indian language, was a Colorado Party candidate for president in the 1998 campaign, but his run was blocked when he was charged, convicted and sentenced for mutiny. His running mate, Raul Cubas, took over and was elected that year, but was forced out by March 1999 street riots.