Canadian dollar soars to record 107 US cents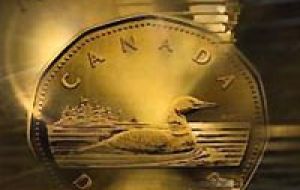 The Canadian dollar jumped more than two U.S. cents Friday to a record 107.18 US cents on strong employment data and a rise in oil prices, while the green back resumed its weakness against most major currencies. So far this year the Canadian dollar has appreciated 24% against the US dollar.
Friday's jump came after Statistics Canada reported the national unemployment rate fell to a new 33-year low of 5.8 % in October, compared with 5.9 % in September. The loonie gained 2.06 cents over Thursday's close of 105.12 cents US after the solid Canadian employment numbers were followed by a report that US unemployment held steady at 4.7 %. The Canadian dollar paired with the US dollar last September 20 and since then has kept advancing on the crest of high oil prices and other commodities of which Canada is a leading world exporter. The US currency is lower against all of its G10 peers, with the Canadian dollar and Australian dollar leading the move higher and the yen underperforming, said Toronto analysts. In addition to the "surprisingly strong Canadian employment report," the loonie benefited from an increase in oil prices, which were up 88 cents at US$94.37 per barrel. The previous Canadian dollar record dates back to August 21 in 1957 when it reached 106 US cents. Canadian Finance minister Jim Flaherty and the Bank of Canada, concerned with the country's export competitiveness, have pointed out that the revaluation of the local currency is "not justified" and are blaming speculators for the surge. Most Canadian economists had predicted that the loonie could reach parity with the US dollar towards the end of 2007 or early 2008. Now however they are predicting the Canadian dollar could reach 110 US cents in the coming months.