Uruguay cattle supplies tight and beef exports down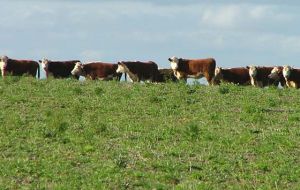 Uruguay's meat exports in the first nine months of this year totaled 368.662 tons equivalent to 816 million US dollars, compared to 429.376 tons and 919 million US dollars in the same period a year ago, according to the latest release from the country's National Meat Institute of Uruguay (INAC).
The figures from the September 2007 beef export statistics include fresh, chilled, frozen and processed beef, and offals and by-products. According to the data, Uruguay's beef exports during September fell 13.5% from August and 20.7% from September 2006 to 27.412 tons. Specifically, frozen beef exports totaled 16.778 tons making up 83.1% of the total. Fresh, chilled beef exports totaled 2.744 tons. In September Uruguay exported 5.951 tons of beef to United States. This was down 35.1% from the previous month and down 9.3% from September 2006. However total year-to-date beef exports to the U.S. were 27.6% higher than a year ago, amounting to 107.259 tons, making the U.S. the main client for Uruguayan beef with 37.7% of total exports. Uruguay's beef exports to the European Union in September totaled 3.379 tons, which was 1.5% higher than the previous month but 10% lower than September 2006. During the first three quarters of 2007, Uruguay's beef exports to the EU equaled 35.979 tons, 15% below a year ago. Uruguay's exports to the EU represented 12.7% of the total. Beef exports to Africa totaled 31.217 tons, 41.2% lower than a year ago and representing 11% of total sales. Meanwhile, during September, Uruguay's cattle slaughter decreased 33.3% from the previous month to 111.299 head. Total year-to-date cattle slaughter equaled 1.694.774 head. This was 13.5% less than a year ago as cattle supplies remain tight.