Week of rain leaves a million homeless in Southern Mexico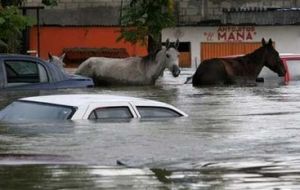 Massive flooding from a week of rain has forced hundreds of thousands of people in the Mexican state of Tabasco to abandon their homes and seek shelter from the muddy waters that on Friday covered an estimated 80% of this southeast Gulf state.
Mexican government and military workers scrambled in helicopters and rescue boats to reach tens of thousands of people still trapped by floodwaters that rose as high as rooftops in many low-lying neighborhoods. Many had been reluctant to leave their homes fearing looters would take any valuables left behind. The rain has stopped, but weather officials are predicting another storm in the coming days. Residents here are accustomed to annual flooding but none this severe. Government workers and volunteers ferried food and drinking water to makeshift shelters created in parking structures, hospitals and schools. Many people woke up this morning wrapped in donated blankets after a night on cement floors. Tabasco Gov. Andres Granier said half of the state's 2 million residents were affected by the floods. Despite planeloads of emergency goods arriving today, officials worried about possible shortages of food, water and medicine this weekend. Those left homeless lamented the loss of possessions. Some told TV interviewers that they'd left behind all but the clothes they were wearing as they escaped to higher ground. Others pointed to a box of clothes or a television they had toted to safety. Only one death has been confirmed so far. Officials have yet to release damage estimates, which are expected to include millions of dollars in agricultural losses from such crops as bananas, corn and beans. Mexican President Felipe Calderon in a nationally televised address Thursday night said Tabasco residents were suffering through one of the country's worst disasters and asked Mexicans to pitch in with donations. Many Tabasco residents, he said, had "lost their home, their belongings, their crops and their ability to care for their children." He said the army, navy and federal police were assisting in rescue efforts and in maintaining order.