Ban Ki-moon Brazil agenda: climate and food security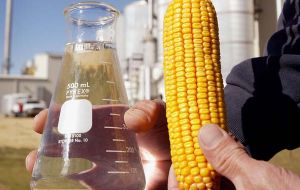 U.N. Secretary General Ban Ki-moon said on Tuesday he would discuss how to balance climate change and food security in the development of biofuels when he visits major ethanol producer Brazil next week.
Speaking before leaving on a trip that takes him first to Argentina, Antarctica and Punta Arenas in Chile, Ban said he wanted to see for himself the impact of global warming. Brazil is a leading force in developing biofuel from crops as an alternative to fossil fuels. Fears about climate change have fueled a boom in biofuels which has diverted some food crops into fuel production, pushing up cereal prices. Last month, a U.N. Special Rapporteur on the right to food, Jean Ziegler, called for a five-year moratorium on biofuels, saying it was a "crime against humanity" to convert food crops to fuel when nearly a billion people were hungry in the world. But Ban said alternative energy sources were vital to addressing climate change, which he has made a priority since taking up his post this year. "The U.N. research report published this year underscored that biofuels (have) greater promise in addressing these global warming issues through low-carbon emissions," Ban said. "At the same time ... it is true that there are some concerns expressed, by specialists or experts, on the possible impact on food security," he said. "The elimination of extreme poverty should be also a top priority. Therefore, how to reconcile or have some balanced development addressing these issues will be very important." "I am going to discuss this matter when I visit Brazil, with Brazilian leaders, and look for myself." Ban is due to meet researchers and indigenous groups in the Amazon region and visit an ethanol plant. He is preparing for a U.N. climate change conference to be held in Bali, Indonesia, in December, which is expected to kick off negotiations on a new accord to curb carbon emissions after the Kyoto Protocol expires in 2012.