Booming Shanghai makes PetroChina world's biggest firm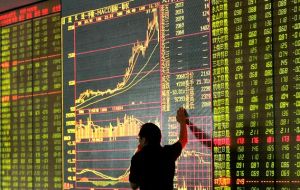 China's oil corporation PetroChina became on Monday the world's biggest firm by market value on its first day of trading in Shanghai. She displaced US corporation Exxon Mobil.
PetroChina saw its shares nearly triple from 16.7 Yuan to end at 43.96 Yuan, giving PetroChina a market value of about a trillion US dollars. This is more than twice the 488 billion US dollars value of oil producer Exxon Mobil. But some analysts said the PetroChina's Shanghai share price stemmed from speculation and was too high. State-owned PetroChina already has shares traded in Hong Kong and its flotation on China's mainland stock exchange in the country's largest domestic share sale represented just 2% of the total number of shares it has listed. The fervent interest in the company underscores investor confidence in China's booming economy. The Chinese stock market soared past the UK as the world's third largest by value after PetroChina's 9 billion Shanghai listing. The market has gained 110% already this year. In terms of profit though, Asia's top oil and gas producer does not even make it into the world's top 50 companies, which some analysts say should sound alarm bells about the firm's valuation. Its current share price is 60 times the amount it currently earns per share. This is far above the global average forecast by oil producers, which is 18 times current earnings. Many expected the stock to open at about 35 Yuan. This view that at 60 times its earnings per share PetroChina is too pricy was reinforced by international investors taking profit in the firm's Hong Kong shares, which fell 8.2% to 18 Hong Kong dollars. Other analysts observed that surging world oil prices, which touched the $96 level in New York on Friday, had been beneficial for the firm's debut, particularly with China raising fuel prices by 10% last week. But petrol prices are controlled from Beijing, which has historically used its power to shield consumers from inflation and prevent any resultant social unrest. PetroChina, owned by China National Petroleum, said it will use the money to fund expansion of its Chinese oil fields.