Fears of weaker dollar shoot oil and gold to record highs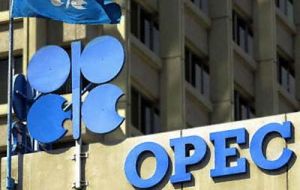 Oil prices have risen to a record high above $97 a barrel, amid concerns over tight fuel stocks and a weak US dollar.
US crude oil rose $3 to a high of $97.10 before closing at $96.70, while the price of London Brent crude climbed to a record level of $93.26 a barrel. The price of gold also surged to a record peak of $826.40 an ounce on the weak dollar and fears of inflation spurred by the record high oil prices. Gold is seen as a haven for investors in times of stock market uncertainty. Gold prices later eased slightly to close at $823.40. Oil prices fell $2 a barrel on Monday as investors worried that economic growth could slow in the US and curb demand for fuel, but soon resumed their seemingly remorseless climb towards the $100 mark. The latest rise was triggered by a combination of the weak dollar, an attack on a oil pipeline in the Yemen and fears of fresh volatility in the Middle East after a series of deadly bombings in Afghanistan. "We seem to be seeing a tug of war between people taking profits and those coming into buy into dips, and they are effectively saying we can go past $100," said Mike Wittner at Societe Generale. The focus now is on the latest snapshot of US crude oil reserves expected on Wednesday. Analysts expect the stocks to have fallen by more than 1.5 million barrels in the past week, because of disruptions to short-haul Mexican shipments. In remarks released ahead of the weekly inventory figures, the US Energy Information Administration said it expected US crude consumption to rise next year despite higher prices. On the other hand, it expects inventories to have been depleted by about 11 million barrels by the end of the first quarter. The agency also raised its price forecast for 2008 to $79.92 from $73.50 a barrel. "Rising oil consumption and the realization that additional Opec production may not be sufficient to arrest the inventory decline are keeping markets firm," it noted. Analysts said they expected the market to remain febrile as prices neared $100. "But the overall market sentiment is still bullish and prices appear to be on an uptrend towards the $100 mark," said Victor Shum, from energy consultancy Purvin and Gertz. "If we have a combination of a drawdown in inventories and a cold spell in the US, that could cause a surge in pricing."