LAN orders record 32 Dreamliners 787 and two B777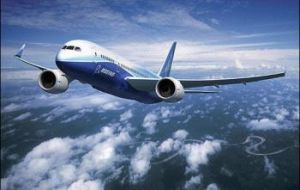 Boeing said Monday it had struck a multibillion-dollar deal with Chile's LAN Airlines that includes 32 787 Dreamliners, the largest order for its new plane in Latin America. The order includes 26 of the fuel-efficient Dreamliners and six more leased from International Lease Finance Corp.
It was the first order for the mid-range, fuel-efficient Dreamliner since Boeing was forced to delay the initial deliveries to late 2008, from May 2008, because of parts shortages and delays in integrating complex software programs. The LAN deal -- "marking the largest 787 acquisition to date for Latin America" -- also included an order for two 777 freighters and a commitment to lease two from GE Commercial Aviation Services. According to published list prices, the order for the 26 Dreamliners is worth an estimated 4.5 billion dollars and the two 777 freighters are valued at about 500 million dollars. LAN will receive a total of 32 787s and four B777s, Boeing said, without citing a delivery date. The two 777 freighters directly ordered by LAN had been attributed to an unidentified customer on Boeing's orders and deliveries website, the company said. It was by far the largest 787 Dreamliner order to date in Latin America. Colombian airline Avianca has ordered 10 and Mexican carrier Aeromexico leased three and purchased two. Fifty-one airlines so far have ordered a total of 736 Dreamliners, which the company said makes the Dreamliner "the most successful commercial airplane launch in history." Eleven customers have ordered 82 of the 777 freighters, which are scheduled to enter service beginning in the fourth quarter of 2008, Boeing said. The highly touted Dreamliner is being developed at Boeing's Everett, Washington state, facility. As much as 50 percent of the plane's primary structure, including the fuselage and wing, will be made of composite materials, allowing a 20% reduction in fuel use, the company says. "This order reaffirms support for Boeing's Dreamliner from the largest and one of the most profitable airlines in Latin America," said John Wojick, Boeing Commercial Airplanes vice president of sales in Latin America and the Caribbean. Airbus's challenge to the Dreamliner, the future 350 XWB (extra-wide body), will not enter service until 2013. An early version of the plane drew sharp criticism from several airlines which forced Airbus to revise its prototype. To date, the Airbus 350 trails far behind the 787 in the market, with a total of 196 orders.