Malvinas dispute: "I've offered to act but sides must agree"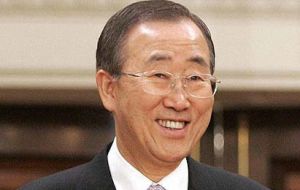 United Nations Secretary General Ban Ki-moon said he has repeatedly offered his good offices to address the Malvinas/Falklands issue, but there must be an understanding between the countries involved, "and that has not happened".
In the eve of his trip to the Southern Cone, Antarctica and the Ibero-American summit in Chile, Ban Ki-moon was interviewed by the Argentine press in the UN headquarters in New York. "I've expressed my willingness to play a role in the Malvinas/Falklands issue, but my role depends on an understanding between the countries for me to act", said the UN Secretary General who underlined that the General Assembly decided that the way for Argentina and UK to advance in the dispute is for both countries to discuss and solve the issue peacefully through dialogue. As to the UK's claim of a million square kilometers of continental shelf off Antarctica and the Falklands, Mr Ban Ki-moon said it's not his job to adopt decisions regarding territorial and sovereignty claims in Antarctica. "The international community agreed in the Antarctic Treaty of 1959 to freeze all sovereignty claims, without accepting them or rejecting them, and I really believe that area must be preserved in the common interest of the international community". Further on the said the purpose of his trip to Antarctica was to personally observe the impact of global warming on the glaciers and how the scientific community should work together to avoid these glaciers from disappearing. And why are you flying in a Chilean aircraft to a Chilean base? "You should not infer any political motivation, simply I'm participating in the Ibero American summit and the Chilean government offered an aircraft to fly to Antarctica", was the reply. "I'm simply using an airplane, but I'm working for the good of the international community". Finally Ban Ki-moon said he was looking forward to visit Argentina and meeting "the First Lady, well really the elected president (Cristina Fernandez de Kirchner)". The UN Secretary General will be visiting Brazil, Argentina, Chile and Antarctica before leaving for Europe, in preparation for the global climate change summit next month in Asia.