High ozone levels over Santiago linked to pneumonia rates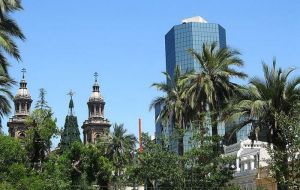 Recent Chilean Health Ministry study found ozone levels in the northeast parts of greater Santiago higher than normal during 180 days this year. The study also linked the high levels of ozone in Santiago's atmosphere with increased rates of pneumonia.
The areas most affected are in the upscale boroughs of Vitacura, Las Condes and Lo Barnechea. The study found that high levels of ozone coincided with spikes in the number of reported cases of pneumonia. The National Environmental Commission (CONAMA) attributed the high ozone levels in Santiago's northeast boroughs to winds that blow pollution in that direction. Ozone results form a reaction between sunlight and elements in the atmosphere (mainly contaminants), and can hurt individuals by attacking the lungs as a secondary pollutant. The element serves as an oxidant that causes health complications, including pneumonia. The study was released by Senator Guido Girardi (PPD) after a meeting with undersecretary for public health, Lidia Amarales. Sen. Girardi proposed that vehicle restrictions, which prohibit private vehicles (determined by the final digit on the license plate) from driving during high contamination days, be made permanent. This would affect all cars that do not have a catalytic converter. Cars are one of the major polluters in the city and failure to comply with the restriction is punishable by fines. Sen. Girardi also proposed that pre-emergency and emergency environmental alerts be issued when high levels of ozone are detected. This would further restrict the number of cars on the streets during high contamination days. Girardi said this was a necessary step because "automobiles are the main cause of the ozone in Santiago." Ringed by both the Andes and the Chilean Coastal Mountains, Santiago has one of the highest air pollution levels in the world. Major changes to public transport were undertaken this year in the hope of reducing the health and environmental impact felt by the city's six million inhabitants. Although air pollution was gradually reduced by about one third between 1990 and 2000, there has been little progress since then.