UK not likely to meet Falklands' mine clearance, says UN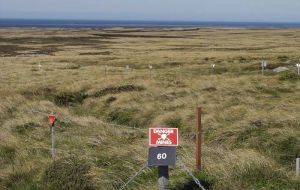 A new report launched Tuesday by the United Nations Institute for Disarmament Research states that not all countries are on track to meeting the deadline of removing anti-personnel landmines by 2010 and the list includes the United Kingdom for clearance of the Falklands/Malvinas.
Landmine Monitor Report 2007: Toward a Mine-Free World, published by the International Campaign to Ban Landmines, says that 14 countries are likely not to meet their mine clearance deadlines under the Convention on the Prohibition of the Use, Stockpiling, Production, and Transfer of Anti-Personnel Mines and on Their Destruction ("Mine Ban Treaty"), which entered into force in March 1999. They are Bosnia and Herzegovina, Cambodia, Chad, Croatia, Mozambique, Niger, Peru, Senegal, Tajikistan, Thailand, the United Kingdom (for clearance of the Falkland Islands/Malvinas), Venezuela, Yemen, and Zimbabwe. In addition, France, Niger, the UK and Venezuela have not even begun clearance operations, another obligation under the Treaty. The Report also points out that Government use of anti-personnel mines declined further in 2006, with only two countries continuing to lay new mines – Russia and Myanmar. Last year, landmines claimed the lives of over 5,700 people – three quarters of whom were civilians, adds the report, which also identified at least 473,000 landmine survivors globally as of August 2007, many of whom will require life-long care as a result of their injuries. Millions more continue to live in mine-affected areas. Signed by 122 governments in Ottawa, Canada, in December 1997, the Treaty had 155 States Parties as of 15 August 2007.