EU low cost airlines accused of "misleading web info"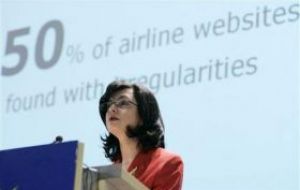 The European Union consumer protection chief has accused low-cost airlines of obscuring the true price of airfare. The carriers were given four months to change their advertising practices or face restrictions on their Web sites.
"Over 200 European Web sites selling airline tickets were misleading customers, including many run by leading airlines", said EU Consumer Protection Commissioner Meglena Kuneva. "We discovered that about 50% of airline ticket-selling Web sites are currently letting Europe's consumers down" Kuneva said in a statement. "The figures released today (Wednesday) show that there is a substantial problem in the industry." The commissioner warned airlines to "get their house in order" by January or face sanctions including fines and the closure of Web sites. "They will be closed down, I will shut them down if they do not improve," Kuneva said. Internet sales are critical for the EU air-travel industry, which commission figures show caters for over 700 million passengers per year. The European Commission announced its crackdown following findings from an investigation into the discount flight market conducted by 15 EU states and Norway in September. Of the 446 Web sites investigated, 226 "were flagged as in some way not respecting consumer protection law" a commission report said. The online sweep focused on unfair pricing, hidden charges and terms and incorrectly translated conditions. Under EU rules, a clear indication of the total ticket cost, including taxes and booking fees, should be given in the initial "headline" price. The Association of European Airlines, which represents major European carriers including Lufthansa and British Airways and Lufthansa, said the "vast majority" of its members complied with EU consumer regulations. "At last everybody will be forced to advertise their prices in the same way" said AEA spokeswoman Francoise Humbert. Last month, Spain's consumer rights watchdog said it had found misleading information in seven out of 12 Web sites including Ryanair, Europe's biggest low-cost carrier. "Ryanair hasn't been contacted by the EU Commission as part of this alleged investigation but we would welcome any proposals by the Commission to force Europe's high fare airlines to match Ryanair's fares", the company's head of communications, Peter Sherrard said in a statement. Kuneva pointed out that the EU executive would name non-compliant companies in January. "Once the January deadline expires I will not hesitate to go further and name and shame companies which are still breaking the law,"