China forecasts boom in cooking oil and grains markets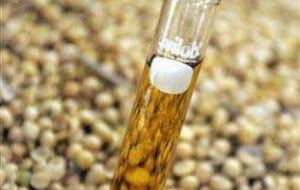 China's soy oil purchases will represent 45% of world's imports by the end of last September up 25% from seven years ago according to a report from the Beijing government supported Shanghai Daily".
China the world's leading consumer of cooking oil will be importing more soy and palm oil since local farmers cut their crops and domestic prices rose 50%, said Wang Yinji, from China's main cooking oil trading corporation. The Asian giant has been encountering mounting difficulties to contain cereal and oil prices given insufficient crops, restricted by the lack of sufficient farming land. China's per capita consumption of cooking oil is 17 kilos annually, below the world's average, and significantly less than the 25 kilos of Taiwan whose population have similar diet, and less than the US consumers' 40 kilos. "Therefore we can expect the domestic cooking oil market to expand rapidly in the comino years", said Wang. Soybean oil is the main cooking oil in China equivalent to 41% of all oils consumed. Palm oil's market share stands at 21%. At the current two digit growth rate China is forecasted to double its 2000 GDP by 2010 with a proportional increase in cooking oil consumption as the average income of households keeps increasing. "Not only vegetable oils, but all food products can expect a phase of rapid expansion", added Cheng Guoqiang, Assistant Director of China's Development Council.