Repsol CEO demands clear rules for investors in Latam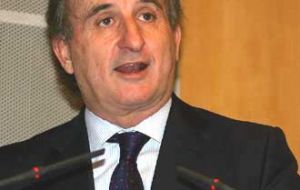 Spain's Repsol-YPF CEO Antonio Brufau claimed on Wednesday that "certain countries" in Latinamerica, which he did not specify, seem to have difficulties in perceiving the benefits that come with foreign investments, both for the economy and its population.
In a speech during the IX Latibex Forum in Madrid, Brufau said that "stable frameworks, reliability and legal security" are essential to ensure the inflow of investments to the region. In the last few years Repsol-YPF has suffered the nationalization of assets in Bolivia plus production and windfall taxes, not originally included in contracts. In Venezuela the Hugo Chavez administration ended the so called Operational Accords with foreign oil corporations bases in the country and since 2006 forced those companies to form associations as minority partners with the government owned PDVSA, or leave the country. Earlier this year Ecuador imposed a 99% tax on windfall earnings. In Argentina Repsol announced the sale of a significant percentage of its holdings to a local partner and will cease operating its shares in the Buenos Aires stock exchange. What is needed, emphasised Brufau is a "clear definition" of the combination of public, private and government participation so that social policies in open market economies "can be understood in all countries". Governments must establish policies with "clear rules, no bureaucratic hurdles and stable, reliable frameworks for investments", while corporations should be involved in projects which benefit both countries and peoples, with an active corporative responsibility policy. "We can't be perceived as companies only looking to make money, but rather also committed to creating improved social welfare conditions", underlined Repsol's CEO: Spanish corporations have on average between 1993 and 2000 invested 7.8 billion Euros annually and 4.4 billion Euros from 2001 onwards, revealed Antonio Zoido president of Spanish Bourses and Markets, BME, during the Latibex forum.