Falkland Islands: Penguin News weekly update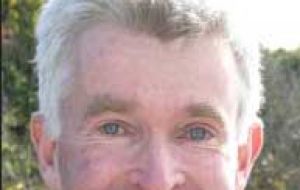 Headlines:
New Year by-election; Forces reach £25,000 goal for Combat Stress; Man jailed for assaulting child.
New Year by-electionGovernment apologises for poor advice after Dr Davies vacates seat THE government has apologised for an error which lead to the Legislative Council seat occupied by Dr Richard Davies becoming vacant. A by-election will take place on January 3 and Dr Davies intends to seek re-election for the Stanley constituency. He gained the highest number of votes in the 2005 election. Dr Davies, who also works part time as a General Practitioner at the King Edward VII Memorial Hospital, lost his seat after acting as Chief Medical Officer (CMO) in the absence of the substantive CMO, something which is unconstitutional - despite being advised by the government that he was safe to fill the role. In June 2006 he signed a new contract which required him to act in the capacity of CMO if requested. Dr Davies said he was uneasy about this in view of the potential conflicts of interest, and he raised the issue with his managers. He commented: "It was agreed that I should confine myself as far as possible to clinical matters such as making decisions about calling out an air ambulance. I did not attend HMSC or senior management team meetings. Nevertheless there were sometimes issues of policy or recruitment which I was uncomfortable dealing with. On these occasions I raised the matter with either the Director of Health or the Chief Executive and strove to negate any conflict of interest in this way." On three occasions in the last two years Dr Davies had been required by the medical department to act as CMO in the absence of Dr Diggle. On Friday he was advised by the Attorney General that this was unconstitutional and that in so doing he had vacated his seat in Legislative Council. This week Dr Davies said he had taken independent legal advice which had corroborated this view: "The law does not appear to allow for any discretion." He said this was contrary to the advice he previously received from government: "I was informed that it was permitted, as a councillor, to fill in as Acting CMO during the Chief Medical Officer's absence." Dr Davies said he accepted the advice of his managers and the former Chief Executive in good faith: "If they had sought appropriate legal advice a simple solution could have been devised to fulfill the service need of the department in a constitutional manner. The present problem would not have arisen." Current Chief Executive, Dr Michael Blanch, described the events as "a bad error" for which the government had apologised. In an interview with Falklands Radio he said the problem appeared to stem from the former Chief Executive Chris Simpkins and/or the then Attorney General, Melanie Chilton, relying on an internal document called the Management Code. He explained: "This is a document that brings together all the law of provisions on how we handle people management in the civil service. The Management Code was not specific about the matter of acting posts. It is well known that a person can't be a substantive Chief Medical Officer and hold appointment as a councillor - the Management Code wasn't clear "In my view, either the then Attorney General or the then Chief Executive failed to consult the Constitution. The Constitution is quite clear it is not possible to be an active Chief Medical Officer and be a councillor and that the moment you do that, your seat is vacated." More on page 2. Forces reach £25,000 goal for Combat StressMEN and women serving with the British Forces in the Falklands have raised more than £25,000 for the charity Combat Stress in 2007, the 25th Anniversary of the Falklands War. Military and civilian personnel took part in a wide range of activities including acts of stamina, strength and endurance along with social activities such as discos and quiz nights. The £25,000 target was reached during a challenging demonstration of strength - towing a Hercules C130 aircraft along the runway at Mount Pleasant. Commander of British Forces Brigadier Nick Davies said: "I am immensely proud of all who contributed to this spectacular achievement and would like to pay tribute to the wholehearted and enthusiastic participation in this project and the varied and creative ways found to raise the money." Man jailed for assaulting childA TWENTY-FOUR year old man who admitted a sexual offence against a child under 13 began a six month prison sentence on Tuesday. Leroy John Young had already spent eight weeks in custody when he appeared before the Senior Magistrate Alison Thompson for sentencing. His case had been adjourned for a pre-sentence and psychological report to be prepared. Defence counsel David Lang said it was "startlingly clear" from the psychologist's report that Mr Young, although 24 years old, was not intellectually a person of the same age. He added that the victim had suffered as a result of the incident but that Mr Young was not solely responsible for her suffering. "It is inevitable in a small community that she has been identified despite all the precautions; her identity has been bandied about and she has suffered as a result," he said. Miss Thompson said that the sentence should be a deterrent for not only Mr Young but also for the public at large. She said that while she was satisfied Mr Young did not intend to harm the girl, he should have considered her age: "No child of that age has the emotional maturity to cope with such a situation." Miss Thompson was "disappointed and disgusted," at the attitude some had shown towards the victim, and added that the girl should not feel in any way to blame for what had happened. St Helenian-born Mr Young will reappear in court on November 28 when applications for a Sexual Offenders Protection Order (SOPO) and Deportation Order willbe made by the Crown.