Lloyd's List claims M/V Explorer had "five failings"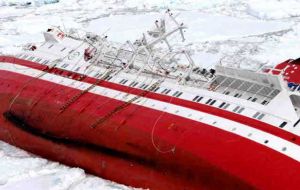 A legal and insurance storm of Antarctic proportions could be in the making for the M/V Explorer and its owners if a report in the maritime market news portal Lloyd's List proves to be correct.
With all the passengers and crew members safe and sound overnight in Chilean and Uruguayan Antarctic bases, now begin the inquiries into how the accident happened and the legal and insurance claims. According to Lloyd's List portal the cruise vessel abandoned off the Antarctic coast had five failings including lifeboat maintenance problems and missing search and rescue plans when the May inspection. It says the inspection, carried out by the UK Maritime and Coastguard Agency, also noted problems with the ship's watertight doors and fire safety measures. At present it remains unclear whether the vessel, which developed a serious listing after hitting submerged ice off King George's Island in Antarctica, will sink or remain afloat to be salvaged. The M/S Explorerwas the "world's first custom-built expedition ship" when it began operating in the early 1970s. Canada-based GAP Adventures claimed it "goes where other ships cannot" on its website, describing its "ice-hardened double hull and a fleet of robust zodiacs" making it a "go-anywhere ship for the go-anywhere traveler". The firm says the ship's captain, Uli Demel, is "widely" regarded as the master of Antarctic navigation. Punta Arenas officials also revealed that last March Chilean inspectors in Puerto Natales detected six deficiencies in the M/V ExplorerExplorer was built in 1969 in Finland and has an ice hardened double hull and is specifically designed for expedition travel where the environments may be challenging. "We're going to be doing a full investigation" said a GAP spokesperson adding that the Explorerpassed a safety inspection just four weeks ago. "Nothing like this has ever happened before". GAP Adventures says the Explorerhas a "legendary" history. It was the first passenger ship to travel to Antarctica and the first to venture south of the Antarctic Circle. It was also the first passenger ship to travel through the icy waters of the Northwest Passage. The tour company operates several trips to the Antarctic and the Explorerwas in the midst of a 20-day tour called the Spirit of Shackleton. Eighteen nights are spent at sea and the tour includes stops at the Falkland Islands, the island of South Georgia, and the Antarctic Peninsula. The Antarctic Tour focuses on wildlife, culture, history and scenery and several naturalists, historians and geologists are on board the ship to educate the travellers. GAP Adventures specializes in small group and adventure travel.