Stormy 2008 for Latam anticipates The Economist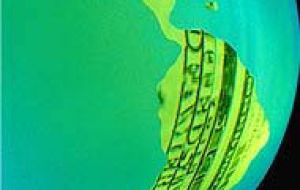 Latinamerica is the emerging markets region that will most feel the impact of the slowing of the United States economy and the credit crunch according to a report from the Economist Intelligence Unit, EIU, released this week.
The analysis publication from The Economist adds that the region will also suffer from "a relatively low investment pace" in the coming year. EIU points out that 2008 will be less favorable for growth than the year ending which has seen some exceptional results in emerging markets. These markets have benefited from an extraordinary world liquidity fueled by oil dollars, Asian central banks pumping liquidity and the surpluses accumulated on the back of lax monetary policies from the US, Europe and Japan. EIU estimates that Latinamerican expansion in 2008 will be in the range of 3.8% and 4.2% in 2009, compared to previous forecasts of 5.1% in 2007 and 5.3% in 2006. The report also points out that Asia will be less influenced by any slowing of the US economy because of the strong inter region trade as well as the continuing Chinese boom. Similarly Eastern European countries are poised to benefit from the still strong growth of the Euro area. However the EIU improves the US economy growth forecast for 2008 from 1.2% to 1.5%, given the best showing of the economy in the third quarter. But it underlines that the last quarter of this year will be particularly depressing because of a strong retraction in domestic demand forced by the housing slump. The report also targets Spain as one of the "risk" areas anticipating a quick end, with a bang, of the housing boom. Apparently the Spanish economy has been riding stimulated on an "unsustainable" real estate market which has seen the value of houses jump almost 200% since 1997, fueling domestic demand and a huge current account deficit. As to energy prices the EIU forecasts an average 78 US dollars per barrel for Brent oil in 2008 and 72 US dollars in 2009, compared to the 69 and 63 US dollars anticipated a few months ago. EIU argues that the rising cost of oil can be attributed to diminishing world reserves and a continuous misbalance between demand and supply given the strength of emerging markets economies.