Argentina wants stricter rules for Antarctic tourism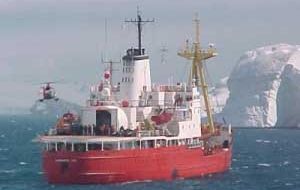 Argentina is assessing the environmental impact of the wrecked Liberian flagged Canadian cruiser Explorer and will closely monitor events as well as demand stricter conditions for cruise operators in Antarctic waters.
Environmental Secretary Romina Picolotti flew on Saturday over the Antarctic area were the Explorer sank after hitting submerged ice on Friday to evaluate the environmental damage and start working on a recovery plan. A spokesperson for Picolotti said she decided to assess for herself, accompanied by experts of the Environmental Secretariat, the possible consequences the wreck may have caused in the local ecosystems. The Picolotti office also anticipated that Toronto based GAP cruises will be called to inform on events leading to the accident. The head of the Argentine Antarctic Directorate (DNA,) Mariano Mémolli, informed that the "Explorer sunk carrying 185,000 liters of fuel on board, with a minor spill so far". However he mentioned that "corrosion of the sunken vessel may cause complications in the future". The Explorer now rests at a depth of 1.000 meters. Picolotti departed from Río Grande in Tierra del Fuego to King George Island and then over flew the Shetland archipelago, only 96 kilometers away from the Antarctic Peninsula, where the incident took place. According to first reports the spill was several hundred meters wide but since it was marine fuel apparently it dissolves much easier and faster than heavy oil. "The environment impact is not serious, but this is an alert about what is happening. Although fortunately no human lives were lost, it was inevitable something like this would happen given the increase of tourism in the region", said Ms Picolotti. In the last few years the numbers of tourists in Antarctica has doubled and this season over 30.000 are expected. "This is a very significant number if we consider that in the whole of Antarctica there's not more than a thousand people", added the Argentine official. "Antarctica is a natural reserve consecrated to peace and science. It's a most fragile ecosystem and therefore tourism activity must be strictly regulated and closely monitored. Although great efforts have been done to minimize impacts, this last event is evidence that greater efforts are needed". Picolotti insisted "this is not over. Let's hope the vessel can stand a thousand meters of pressure". The Argentine Navy has sent a vessel to monitor the area for environmental impact which will be operating from the Argentine base of Jubany. A Chilean icebreaker, "Oscar Viel" is already in the area. Picolotti said that for this week she had convened an inter-government offices meeting to assess the consequences of the accident and elaborate proposals to present to other Antarctic treaty members. Among them an elaborate environment impact study of each cruise vessel sailing in Antarctic waters; vessels should only be allowed to use marine diesel oil which in the event of a spill rapidly dilutes and finally certifications that hulls can stand different types of ice and the crews are specifically prepared for such travels. "There's always environmental damage. Today we have a vessel that was not there. It's an area rich in biodiversity: rookeries, sea lions, sea elephants, that is why it's so visited", said Memolli.