Australia chooses Labor and a generational change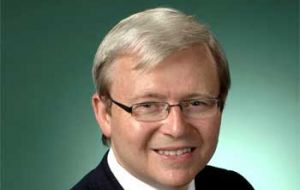 Australia's Labor leader Kevin Rudd, a Mandarin speaking former diplomat, swept into power at a national election Saturday on a wave of support for generational change, ending 11 years of conservative rule.
"Today Australia has looked to the future," Rudd, flanked by his wife Therese and family, told jubilant supporters. "I will be a prime minister for all Australians". The surge to Labor left conservative Prime Minister John Howard, a close ally of US President Bush, struggling to win even his own parliamentary seat, which he has held since 1974, putting him in danger of becoming the first prime minister since 1929 to lose his constituency. Rudd, 50, presented himself as a new generation leader by promising to pull Australian combat troops out of Iraq and sign the Kyoto Protocol on climate change, further isolating Washington on both issues. He also promised to upgrade Australia's social services and to better distribute the wealth of the booming Australian economy boosted by exports of commodities to its Asian neighbors. He anticipated greater aid to farmers since Australia is undergoing one of the worst droughts in its history. Rudd is expected to forge closer ties with China and other Asian nations and has said he wants a more independent voice in foreign policy, but nevertheless again promised Australia would retain its close alliance with the United States. His message of new leadership attracted a swing of more than five percent across Australia from the previous election, locking in only the sixth change of government since World War II. "This is a great democracy and I want to wish Mr Rudd well", Howard said in his concession speech. "We bequeath to him a nation that is stronger and prouder and more prosperous than it was 11-1/2 years ago". Election analyst Antony Green predicted Labor would win more than 86 seats in the 150-seat Parliament, giving it a clear majority in its own right for the first time since it lost power to Howard in 1996.