Venezuela could still vote against Chavez reforms package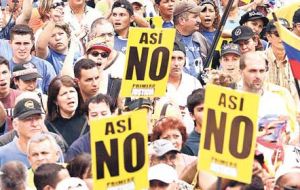 A day after Venezuelan president Hugo Chavez admitted he could loose next Sunday's referendum to reform the constitution, a public opinion poll confirmed that those voting NO are well ahead of those who support the package or reforms.
The survey was conducted by Caracas polling firm Datanalisis, whose polls ahead of past votes have consistently matched Chávez's electoral victories. It found about 44.6% of likely voters oppose Chávez's reforms, well ahead of 30.8% who favor the changes. "Chávez has never gone into an election without being an overwhelming majority from the beginning," Datanalisis pollster Luis Vicente Leon told reporters. "This is the first time it's reversed." However the poll published in Caracas El Universal also shows that the number of undecided voters is 18.6% while 6% did not reply. Furthermore since voting in the referendum is not compulsory the NO advantage drops from 13.8 to 9.5%. Luis Vicente Leon added that in spite of the fact Chavez is behind, "he has the power and resources to revert the polls results". In related news it was reported that the Organization of American States and the European Union are impeded from sending observers to the referendum since they were not invited with sufficient time. Both organizations have had an active participation in the nine elections held in Venezuela in the last eight years. Voters will decide in the December 2 whether to approve reforms that would do away with presidential term limits, extend terms from six to seven years, create new types of property to be managed by cooperatives and communities, eliminate the Central Bank autonomy among other changes. In spite of Chavez support among the dispossessed in Venezuela, analysts believe next Sunday voters could also express their dissatisfaction with the current administration: lack of basic food items such as milk; inflation; crime and insecurity; and the fact that in previous oil prices boom none of this happened. Besides centralization of power in Caracas, as contemplated in the reform, means less autonomy for states and cities, which have their own bureaucracy. Chavez lately had clashed (and insulted) the Catholic Church, the trade unions, student organizations and is mounting a system of armed militia, block by block, which neither the law enforcement nor armed forces see with good eyes.