"Queen Victoria" royalty christening next December 10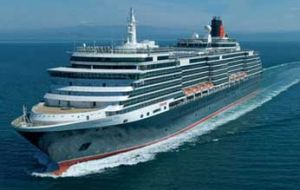 One of the most highly anticipated new-builds of 2007 has inched closer to entering the ranks of British royalty. On Saturday, November 24, the 90,000-ton, 2,014-passenger Queen Victoria officially became part of the Cunard family in a handover ceremony at Venice's Fincantieri Marghera shipyard.
Notable British and Italian guests in attendance for the handover included the Italian Prime Minister, Romano Prodi, and Britain's Under Secretary of State, Department for Transport, Jim Fitzpatrick MP and Carnival chairman Micky Arison. More British flavor was provided in the form of the Band of the Scots Guards, who performed during the ceremony. The Italian flag was ceremonially lowered, and the Red Ensign of Great Britain was raised. With this symbolic gesture completed, the next two weeks will be busy indeed for Queen Victoria. The ship is due to leave the Marghera shipyard on November 30, arriving at Southampton's City Cruise Terminal at 9:30 a.m. on Friday, December 7. Queen Victoria's christening will take place on December 10, with The Duchess of Cornwall, the former Camilla Parker Bowles, serving as godmother. On the occasion Cunard Line and Veuve Clicquot will announce that they are continuing their brand alliance with the debut of the Veuve Clicquot Champagne Bar onboard Queen Victoria. "The tastes of our discerning guests are appropriately matched with the enjoyment of drinking Veuve Clicquot Champagne and we are delighted to, once again, feature a Veuve Clicquot Champagne Bar aboard our new Cunard liner," said Carol Marlow, president of Cunard Line, referencing the two companies' successful partnership that was started with the same venue onboard Queen Mary 2. Located on Deck 2 of the triple-height Grand Lobby, the1920's Art Deco-style champagne bar will serve Veuve Clicquot Champagne exclusively. Appropriately, the Champagnes are paired with fresh delicacies during the pre-dinner and post-dinner hours. An elegant space featuring marbleized glass elements, the Veuve Clicquot Champagne Bar is sure to become a popular gathering place offering vintage champagnes from the Champagne-Ardenne region of northern France. Accommodating 34 guests, the Bar's design elements form a subtle backdrop for curved glass "showcase" panels with inset boxes featuring a variety of the brands premium Champagnes. Queen Victoria will enter service on December 11, embarking on a 10-day maiden Christmas Markets Voyage to the Netherlands, Denmark, Germany and Belgium Following her Naming Ceremony on December 10, she will depart on her Maiden Voyage, to a splendid firework display, at 5:00 pm on Tuesday December 11.