UK house prices fall at fastest rate since 1995 in November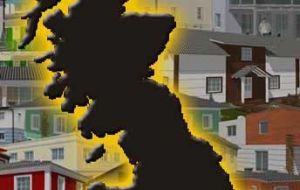 United Kingdom house prices fell at their fastest rate for more than 12 years during November, according to Nationwide Building Society. The average cost of a home in the UK dropped by 0.8% during the month, almost wiping out October's unexpected jump of 1.1%.
It is the first time the group has recorded a fall in house prices since February last year and it is the biggest monthly drop since June 1995. But the group stressed that monthly figures could be volatile, and added that November's drop was partly a reflection of the strong gain seen during October. The fall helped reduce annual house price inflation to 6.9%, down from 9.7% the previous month, restoring the trend of slowing growth seen during the second half of this year. The average home in the UK is now worth £184,099, nearly £12,000 more than in November last year. Fionnuala Earley, Nationwide's chief economist, said: "November's data confirms that the housing market is indeed cooling in line with the weakening in housing market drivers. "Poor affordability, weaker house price growth expectations and the effect of earlier increases in interest rates have all affected demand in the market." Nationwide is the latest UK group to report house price falls as the market responds to higher interest rates and affordability constraints. Earlier this week property information group Hometrack said house prices in England and Wales fell for the second month in a row during November, dropping by 0.2%.