Chinese markets recover and edge above 5.000 points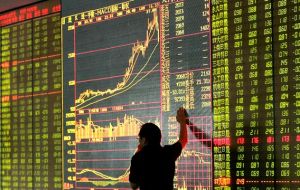 Chinese stocks made a big comeback on Thursday to edge just over 5,000 points again, recovering part of the more than 20% losses in less than two months reports China's Daily.
The benchmark Shanghai Composite Index rose 4.16% to close at 5,003.33 points, reversing three consecutive days of losses. Before the rebound, the gauge lost 21.57 percent since peaking on October 16. Other indicators also increased. The Shenzhen Composite Index gained 3.06% to 1,257.26, while the CSI 300 Index of major companies in the two bourses went up 4.16% to 4,842.07. Turnover in Shanghai and Shenzhen rose to 116.43 billion Yuan, an increase of 50.45% over the previous session, indicating a recovery of investor confidence. The market needed a technical rebound after several days of corrections, analysts said. But they remain uncertain whether the recovery will last. Another factor that might have contributed to Thursday's rally could have been a surge in the global equity markets after a senior United States Federal Reserve official hinted at a further rate cut. Don Kohn, vice-chairman of the Fed, said the US central bank would be "flexible and pragmatic" in responding to new risks to growth arising from the relapse in financial markets. After Kohn's comment, stocks rallied, with the Dow Jones Industrial average jumping 2.6% on Wednesday, its biggest percentage gain since April 2003. Japan's Nikkei 225 average rose 2.38% on Thursday. Back in Shanghai and Shenzhen, blue chips led the surge. PetroChina rose 2.77% to close at 33.04 Yuan per share, while Sinopec jumped 8.77% to 21.83 Yuan. In the financial sector, the Industrial and Commercial Bank of China went up 6.37% followed by a 5.27% growth in China Construction Bank to 10.38 Yuan. Property shares were also strong, with China Vanke rising 4.34% to 31.26 Yuan. Financial Street Holding jumped 8.15% to 27.47 Yuan.