Colombia "prudently" downplays incident with Venezuela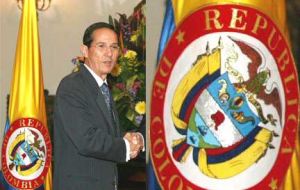 Colombia hasn't received an official statement from Venezuela on diplomatic relations between the two nations and will act with "prudence and discretion", Colombian Foreign Minister Fernando Araujo said on Thursday.
"We will maintain our ambassador in Caracas and will continue to monitor the situation" Araujo told RCN radio. Araujo said the only official statement Colombia has received is Venezuela's decision to recall its ambassador to Bogota. Venezuelan President Hugo Chavez said Wednesday that he won't maintain relations with his neighbor while Colombian President Alvaro Uribe remains in office, calling it a matter of "dignity". Araujo said that next December 5 a Foreign Affairs Advisory Committee, convened by President Uribe and made up of former heads of state and Foreign Affairs ministers will be meeting to address the Venezuela issue. "We will evaluate past experiences, assess how they consider the situation, talk about how we should address the issue", said Araujo of the coming meeting but he also pointed out that "we haven't considered calling for any mediation or good offices from an international figure". Some Colombian Congress members had suggested requesting Brazilian president Lula da Silva to help with the situation. "At the moment we haven't anticipated any international action than that of informing other governments the genesis of the current incident" with Caracas said Araujo although he did not give details of the report. Following the collapse of the three months mediating efforts of President Chavez to formalize a humanitarian exchange of government prisoners for Colombian guerrilla hostages, the Venezuelan leader said that "as long as Uribe is president of Colombia, I will have no kind of relations with him or with Colombia". "We will continue to manage the issue with discretion and prudence; so far we've had no official communication from the Venezuelan government just the official communiqués; we are considering the steps to follow", insisted Araujo. Colombia's prudent attitude is understandable since 15% of the country's exports go to Venezuela. Furthermore each country serves as the other's second-biggest trading partner, behind the US. Chavez' aggressive style has seen him through similar situations with Mexico and Peru.