Ecuador begins drafting "citizens' revolution" chart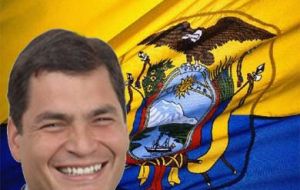 Ecuador's Constitutional assembly meeting in Montecristi, 500 kilometers from the capital Quito, was officially inaugurated Friday by President Rafael Correa amidst warnings from the opposition that democracy in the country was at risk.
"We're simple soldiers of a citizens' revolution", said Correa who called for a "radical, profound and quick change of the (country's) current structures" to be implemented by the constitutional assembly elected by the people and with full powers. Correa said that the new constitution (Ecuador's twentieth) should help build a "true democracy" with new forms of representation and direct participation of society. An estimated 6.000 people weathered under a scorching sun for hours next to a thousand Army and police forces in a tight security formation during the opening session. The 130 member assembly on Thursday assumed full powers and dictated several resolutions among which the recess of the 100 Deputies unicameral Congress until the new constitution is approved in a referendum in 2008. The Assembly is dominated by 80 members of Correa's party. "The Assembly assumes the full attributions and duties of the legislative function", reads the first mandate approved in the middle of heckling from the opposition. "This is the beginning of dictatorship! This is the end of constitutional democracy in Ecuador" said Vicente Taiano, of the conservative Renovating Institutional National Action Party. "This dictatorial behaviour will put an end to democracy. This constitutional (assembly) wants to give more power to the executive (branch)." Social Christian Party deputy Leonardo Viteri said the assembly was in a big hurry to do Correa's bidding. "We now have a super-president with no Congress or courts. He is mocking the Ecuadorian people's trust." Anticipating the assembly vote, lawmakers on Wednesday decided to go on vacations one month ahead of time and warned assembly members that by dissolving Congress they would face international sanctions. The assembly is expected to work for six months in drafting a new constitution, with which Correa aims to increase the role of the state in the economy and broaden social policies in the impoverished country. Colombian president Alvaro Uribe was the only foreign leader at the Montecristi ceremony. Venezuela's Hugo Chavez backed off at last moment apparently to avoid meeting with Uribe. Peru'a Alan García and Brazil's Lula da Silva were also absent.