Every two containers in the Pacific, one is from China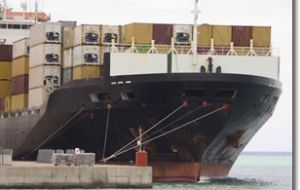 The number of container units handled by China's mainland ports this year hit 100 million this week, highlighting the country's position as a major player in the industry worldwide, reports China's Daily.
"China's container transportation has reached world levels both in handling efficiency and building networks, greatly contributing to the prosperous shipping industries of Northeast Asia and the world," Xu Zuyuan, vice-minister of communications, said Wednesday at a ceremony in Tianjin Port held to celebrate the milestone. This means that every two containers traveling along shipping lines in the Pacific, one is from China. The country also manufactures 90% of the world's containers, he said. "The contribution of the container industry to the global economy is no less than that of the Internet in modern times" underlined Xu. To further build the country from a "large" ocean-shipping nation to a "strong" one, Beijing has plans to invest more in areas such as innovation and policy implementation. It will also continue to encourage more cooperation among ports and shipping companies, Xu said. Although the development of China's container industry started at least 20 years later than that of developed countries, for the past five years the country has led the world in cargo handling and containers, with an annual growth rate of 35%. The first overseas container reached China in September 1973 at Tianjin Port, which later set up the country's first container berth in 1980. The nineties saw rapid expansion of the container transport industry and in 2002 China overtook the United States to become the world's top handler of containers. Last year China handled 5.6 billion tons of cargo and 93 million TEUs (20-foot container equivalent units). Twelve ports recorded cargo throughput of more than 100 million tons, with Shanghai handling 530 million tons, making it the world's busiest port. Song Dexing, director of the ministry's water transport department, said water transport accounts for more than 90% of foreign trade cargo delivery, including 95% of imported crude oil and 99% of imported iron ore. "Containers are further connecting China's middle and western regions to the global market, under a rational ports distribution plan combining coastal areas and inner rivers," he said. However China is still a long way from meeting the growing demand of its rapidly expanding economy, he said. "The container industry must move away from traditional transportation and toward comprehensive logistics and service industries" Song emphasized.