Sunken Explorer's fuel spill endangers mating penguins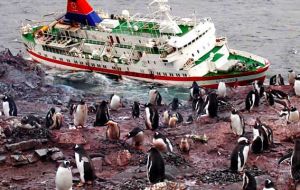 An estimated 2.500 penguins in Antarctica are endangered by an oil spill from the sunken cruise vessel Explorer, impeding access to their mating and nesting places. The oil spill is 1.500 meters long by 200, according to experts from the Chilean Antarctic Institute.
"The diesel fuel keeps flowing out of the Explorer" which is resting at a depth of 1.460 meters said Veronica Vallejos head of the Chilean Antarctic Institute Scientific Department. "The danger is that the fuel spill acts as a barrier for different species such as the Papua penguin that at this time of the year migrates to Ardley island, where their major reproductive colony settles", said marine biologist Maria Jose Roselló. She also recalled that areas bordering the South Shetland Islands are "main reproduction and feeding areas for the Antarctic, Papua and Adelia penguin species which make up 70% of the Antarctic continent penguin population". Vallejos and other Chilean scientists that have been in the area where the Explorer went down over a week ago after colliding with underwater ice, so far have not reported of any oil soaked penguins, but the fear is extensive to other marine mammals and sea birds. Vallejos also underscored that so far it has not been possible to assess any possible damage from diesel fuel on fisheries, krill, kelp, plankton which make up the fragile food chain in Antarctic waters. "There's always environmental danger when fuel is spilt and even more when it happens in an area with a high biodiversity", added Vallejos. Meantime the Chilean Navy reported that the fuel spill can not be contained by the floating barriers because of the dreadful weather conditions in the disaster area, but the ice pack is acting as a natural barrier to the spread of the fuel. Finally Vallejos said it was important that scientists which are beginning to arrive in the area for summer season activities should help keep track of the situation and immediately advise on seeing any marine birds or mammals suffering from fuel exposure.