World meat up 1% in 2007; Brazil main beef exporter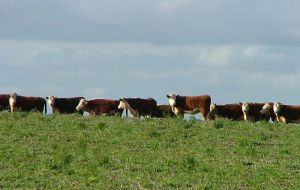 The United Nations Food and Agriculture Organization (FAO) published its bi-annual Food Outlook forecasting that world meat production during 2007 will reach 278.3 MMT, which is 1% above 2006.
World beef production is expected to rise 1.4% over 2006 to 67.1 MMT. In North America, beef production is forecast to decline nearly 1% totaling 13.2 MMT. According to FAO, in the U.S., the expected decline would result from the retention of heifers for herd rebuilding and lower slaughter weights due to a combination of poor pasture conditions and reduced grain feeding. Beef production in Brazil, which is expected to total 9 MMT, is growing at a slower pace than previously because of reduced inventories. Uruguay also faces shortages of replacement cattle and is projected to see a decline in beef production of 7.5%. Australia's beef production is also expected to decrease 2% due to the continuing drought situation. In 2007, world pork production is forecast at 105.8 MMT, which is down 1% from 2006. According to FAO, the reason for the decline is China, where the sector was greatly affected by a massive pig culling following an outbreak of disease. Pork production in China in 2007 is forecast at 50.6 MMT, 4.7% below 2006. In the EU, pork production is expected to grow 1.7% to 22.2 MMT. In Canada, pork production is expected to decline 1.9% along with declining hog inventories as industry continues to consolidate. The Canadian pork sector is also facing pressure from a strong Canadian dollar. Pork production in the U.S. is expected to increase 2.6% to 9.8 MMT with an increase in live weights and slaughter numbers. World sheep and goat meat production during 2007 is predicted to reach 13.8 MMT, 1.5% more than 2006. During 2007, world beef exports are expected to increase 2.5% over 2006 to 7.0 MMT. According to FAO, exports from Brazil have recently been soaring, replacing Argentina's and Uruguay's limited export volumes. During 2007, Brazil's beef exports are forecast at 2.0 MMT, 8.5% higher than 2006. Beef exports from Canada are expected to decline 3.8%. World beef imports are forecast to total 7.1 MMT, 5.1% higher than 2006. Japan's beef imports are expected to rise 4.1% to 660,000 MT, reflecting larger sales from Australia and the U.S. Imports of beef by the U.S., the largest beef importing nation, are expected to increase 5.1% to 1.47 MMT, due to revised import regulations of beef from animals over 30 months of age. During 2007, world pork exports are projected to total 5.0 MMT, 2.6% higher than 2006. Exports from Brazil and Canada are expected to increase 6.6% and 4.0%, respectively, with an increase in shipments to China. Pork exports from the U.S. are expected to decrease 2.6% to 1.3 MMT due to strong domestic consumption. World pork imports are forecast at 5.0 MMT, unchanged from 2006. Pork imports by Japan and Mexico are expected to remain steady with 2006 volumes. South Korea's pork imports are predicted to increase 8.2% due to stronger domestic demand. World sheep and goat meat exports are forecast at 840,000 MT, slightly less than 2006. World sheep and goat meat imports during 2007 are expected to rise 12.3% over 2006 to 910,000 MT. U.S. imports of sheep and goat meat are expected to increase 4.7% because of consumer demand.