Contract to explore world's largest iron ore deposit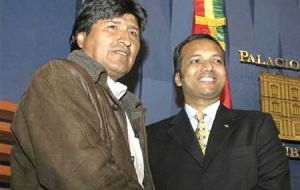 Bolivian President Evo Morales has signed into law a contract for India's Jindal Steel and Power to develop the massive El Mutun iron ore deposit through a 2.1 billion US dollars investment, believed to be the largest foreign investment in Bolivia's history.
The law legalizes the contract inked on July 2007 by Jindal Steel and Power Limited of India and state-owned steel company Esem. The law allows the joint venture to explore and mine 50 percent of the deposit. The project requires a 2.1 billion US dollars investment over 8 years where a steel plant will be built capable of producing 1.7 million tons per year of sponge iron and 1.4 million tons of rolled steel. Once operational by 2012, Bolivia is expected to earn at least 220 million US dollars annually from the joint venture by an annual production of 1.5 million tons of steel products and iron concentrates. It is estimated to generate at least 4,600 jobs. The deal is the biggest single foreign investment in Bolivia, which owns one of the world's biggest iron ore deposits. El Mutun is near the Brazilian boundary. Estimates place the iron-ore reserves covering 23,2 square miles (60 square kilometers) at 40 billion tons of medium-grade quality iron.