Bolivia, Brazil, Chile reach Atlantic-Pacific highway deal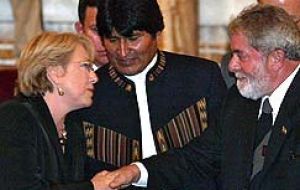 The presidents of Bolivia, Brazil and Chile met here Sunday to clinch a deal for South America's first east-west highway, linking Brazil's Atlantic coast to Chile's Pacific coast via Bolivia.
The massive project is expected to be finished in 2009, according to Brazilian President Luiz Inacio Lula da Silva, and will benefit the three nations by speeding up trade between them and with the rest of the world. Local businessmen said the future 4,700-kilometer (2,900-mile) highway will especially benefit Brazilian exporters to Asia and Asian companies seeking greater access to Brazil's 180 million consumers. For landlocked Bolivia, the transcontinental highway will carry 70% of its exports, said Bolivia's Highway Administration President Patricia Ballivian. Chile said it would invest $92 million to improve roads leading from its coastline to Bolivia, while Brazil announced a similar, $162 million investment on its end of the proposed roadway. During his two-day visit to La Paz, Lula is also expected to announce Monday the resumption of Brazilian investment in Bolivia's energy sector, to the tune of $750 million. Brazil's and Bolivia's state-run oil companies, Petrobras (PBR)and YPFB respectively, will sign an agreement for the joint exploitation of Bolivia's gas and crude oil resources. During her five-hour stay in La Paz, Chilean President Michelle Bachelet was also to discuss Bolivia's long-standing demand for an outlet to the Pacific Ocean, which it lost in a war with Chile in the late 19th century. On her arrival here Sunday, Bachelet said she was "convinced (Bolivia and Chile) should integrate as sibling nations." En route to Bolivia's presidential palace, Bachelet broke protocol by descending from her car and shaking hands with people outside the building, many of whom were waving Bolivian and Chilean flags and asking her to let Bolivia regain a chunk of Pacific coastline. Meanwhile, Bolivian President Evo Morales on Sunday called for talks with the governors of four rich western provinces of Bolivia who on Saturday announced steps toward greater autonomy, triggering countrywide demonstrations for and against Morales' leftist government. Bolivia is in the grips of a constitutional crisis after an assembly run by Morales supporters approved a draft constitution enshrining a socialist agenda that includes redistributing the country's wealth from the rich lowlands to the poor highlands.