Brazil and Argentina successfully launch first joint rocket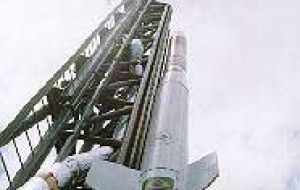 Brazil and Argentina have successfully launched a rocket into space in the first joint space mission by the two South American countries. The liftoff had been delayed four times because of weather conditions, reported Andreia Araujo from the Brazilian Space Agency.
The VS30 rocket, which carried experiments from both countries, blasted off from the Barreira do Inferno launch centre in Brazil's northern Rio Grande do Norte state Sunday, 06:15 in the morning. The country's Space Agency said the rocket reached a height of 121 kilometers. The flight, which lasted nine minutes and 25 seconds, was considered "perfect". The rocket is eight meters long and weighs 1.500 kilos. At that height and with virtually no gravity several scientific experiments were accomplished which had been planned by Argentine institutions as well as a GPS tracking system from a Brazilian university. The rocket plunged into the sea 120 kilometers offshore and was recovered by two Brazilian Air Force Black Hawks and a team of Navy divers. According to the Argentine coordinator of the project Roberto Oscar Yasielski the module will be flown to Buenos Aires to check the experiments and to assess in detail the impact on the hardware. The operation was the result of a 1998 accord between Brazil and Argentina when both countries decided to give up their missile programs. The Brazilian Space Agency said that several similar scientific missions are planned, to be launched both from Barreira do Inferno and the country's main launching pad in Alcantara, state of Maranhao in the northeast of the country.