C. Kirchner sends conciliatory message to the military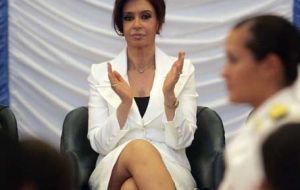 A new chapter of Argentina's first woman president policy of reestablishing normal relations with institutions took place Thursday on graduation day for cadets from the three military services.
President Cristina Fernandez de Kirchner words were considered "very positive" and "non-aggressive" by high-ranking officers who attended the yearly graduation ceremony of the cadets at the Military College. Mrs. Kirchner was received with all the formalities of the military protocol, being the first elected female president to attend such a ceremony. Sources present noted that she showed a very different style from that of her predecessor, her husband Néstor Kirchner, who had a much more confrontational attitude, especially after he decided to turn the former ESMA naval mechanics' school detention centre into a remembrance museum, whilst he repeatedly questioned the actions of the military during the last Argentine dictatorship. One of the well-received portions of her speech was when she said "it wouldn't be unfair to mention that during Argentina's darkest hours, there were groups who aimed to undermine state institutions". "We've all being through the tough learning of the tragedies we had to overcome. You were not protagonists or responsible of the blunders and tragedies of the past", she underlined addressing the new generation of military officers. "I'm absolutely convinced that we are going to give us Armed Forces with a modern role, contemporary, professional, of cooperation, with an economic, social and institutional development model which has the place the Constitution assigns to the Armed Forces". According to officers interviewed at the event, those statements "clearly showed a more conciliatory tone from that of her husband". On May 29, 2006, in a tense ceremony at the Military College to mark Army Day, Mr. Kirchner told thousands of soldiers present the memorable phrase: "I'm not afraid of you". President Cristina Kirchner referred to "military officers who became politicians," and reminded them that it was once said in Argentina that "the presidents had to pass through military academy to become heads of state". At the ceremony Mrs. Kirchner was escorted by most of her cabinet, members of Congress and the top commanding officers of the three services. During the event, the only uncomfortable situation came about when an unidentified official yelled: "Colonel Larrabure," generating nervous reactions among the soldiers. Argentino del Valle Larrabure was an officer kidnapped and murdered by the ERP Marxist terrorist group in 1975. On October 30 of this year, Argentina's General Prosecutor Claudio Palacín held that the case could be considered a crime against humanity, as the family of the late officer was requesting. Earlier in the week President Cristina Kirchner also surprised when she received at government House leaders from the powerful Argentine Catholic Church that had a tense relation with her husband's administration.