Japan drops humpbacks from this season's whale killing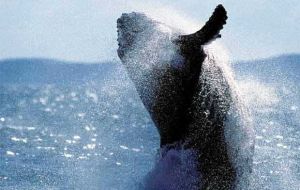 Japan announced Friday it was dropping plans to start hunting humpback whales for the first time in four decades after protests led by Australia seeking to spare the popular mammals. It is the first time that Japan has backed down over one of its whaling expeditions, which have been a longstanding strain in its relations with its Western allies.
Japanese government official spokesperson Nobutaka Machimura said the humpback hunt would not go ahead although the fleet will still hunt about 1,000 other whales in the area. Japan had planned to harpoon 50 humpback whales starting with its current expedition, the first time since the 1960s that Tokyo would have hunted the species. "Japan will not hunt humpback whales for one year or two" said Nobutaka Machimura admitting that "it's true that Australia expressed quite a strong opinion to Japan on this; as a result, I hope that this will lead to better relations with Australia". Japan says whaling is necessary for scientific research, but other countries say the same goals could be achieved using non-lethal techniques. Machimura told reporters that the decision had been reached after a meeting with the International Whaling Commission, IWC. However he added that the IWC had not been "functioning normally", claiming that the commission had been distorted by ideology. Australia had been particularly critical of the humpback hunt, and Foreign Minister Stephen Smith welcomed Japan's decision. But he reiterated Canberra's view that there was no credible reason for Japan to hunt any species of whale, and pledged to keep up diplomatic efforts to prevent further missions Environmental movement Greenpeace and the militant splinter group Sea Shepherd have each sent a ship to Antarctic waters to try to disrupt Japan's whaling. In Australia, Greenpeace pledged to continue to press Japan, noting that the fleet still planned to kill some 50 fin whales -- the world's second largest animal after blue whales and which environmental groups consider endangered. "Japan should turn its fleet around immediately, stop the hunt and cancel any plans for the construction of a new factory whaling ship" said Greenpeace Australia Pacific chief Steve Shallhorn. Humpback whales, protected under a 1966 worldwide moratorium after years of over-hunting, are renowned for their complex songs and acrobatic displays. The humpbacks' slow progression along Australia's coast to breed has turned into a major tourist attraction for the country bringing 1.5 million whale watchers a year. Japan's fleet set off last month despite warnings from Western nations. Rudd's Labor party had accused the defeated conservative government of John Howard of being too soft on Japan out of consideration for economic ties.