Argentine GDP to expand 7.2% and inflation 11% in 2008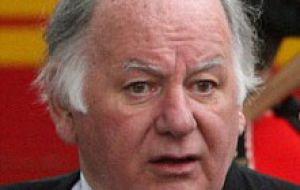 Argentine Central Bank President Martin Redrado announced Wednesday before the Senate that the country's economy will grow 7.2% next year, with inflation averaging between 7 and 11% and exports above 60 billions US dollars.
Argentina's economy has surged since 2002, after the country defaulted on 95 billion US dollars of sovereign bonds and the peso lost 70% of its value. Redrado said the buildup of 45 billion US dollars in reserves and a stable currency helped the country weather bumps in international markets this year that rivaled the turmoil caused by Mexico's 1994 devaluation. "The magnitude of the external shock this year is comparable to the 'Tequila Crisis' in 1995, but the consequences to the monetary and financial system were minimal" Redrado said in the report presented to the Senate Budget committees. Redrado said money supply, known as M2, will grow an average of 18% in 2008 from an estimated 172 billion pesos this year. "Since the crisis, our citizens have shown a marked preference for liquidity" Redrado said and "whether this movement is permanent or is transitory is something we can't at this moment predict". The economist also forecasted that the investment rate in Argentina will be above 23% of GDP, "mostly financed by domestic savings". "In a framework of six years running GDP expansion and with the preservation of external and fiscal surpluses, the 2008 monetary program will ensure equilibrium to money markets in a growing economy", he added. Redrado said that when he first took office the priority was to recover "the basic functions of money", in a period when "all monetary aggregates had an annual 30% variation". "Later we worked to ensure robustness to the financial system with a basic scheme of close monitoring of means of payments", which he argued has adapted to an economy that is "normalizing" with an adequate combination of "flexibility and prudence". Referring to the international theatre and the subprime crisis and credit crunch, Redrado said that Argentina's prudent policies and a consistent macroeconomic management" enabled the country to overcome the situation with no major setbacks. "In Argentina the anti-cyclical policies and anticipatory decisions" from the monetary authorities helped to sail mostly unaffected by the US mortgage crisis and its global consequences underlined Redrado. In December this year Argentina "will have complied with 18 consecutive quarters of the monetary program which means the banking system remains robust and free from international risk". Argentina's international reserves stand at 46 billion US dollars with an annual yield of 2.6 billion. But in spite of the rosy forecast Buenos Aires newspaper Ambito Financiero painted another picture. In an earlier report it said that M2 growth was currently running close to 25%, a figure well in excess of the Central Bank's 2007 target, which was set in a range of 11.7% to 18.7%. Data on the Central Bank's Web site, meanwhile, point to a growth rate of around 20% as of mid-December - though this does not take into account the moving averages used to assess compliance with the monetary program. Ambito Financiero also points out that the 7.2% GDP figure for 2008 is considerably higher than the projection included in the national government's 2008 budget - which predicts economic growth of 4% - but the inflation range is the same. Officially, annual Argentine inflation was 8.5% in November. However, strong doubts exist about the reliability of the data, following the government's intervention in January this year in the National Statistics Agency, INDEC. Economists widely believe that consumer prices are increasing at a rate closer to 20%. The Argentine Central Bank does not set inflation targets for itself and instead defers price policy to the Economy Ministry, where inflation is officially attacked through a price controls system enforced by Commerce Secretary Guillermo Moreno. Redrado announced the Central Bank will begin making 12-month outlook presentations every quarter, beginning in the first quarter of next year.