Argentine clocks put forward 60 minutes as of Sunday zero hrs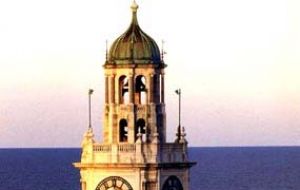 Beginning Saturday midnight, (Sunday 00:00 Hours) the time in Argentina jumps forward an hour as part of a broad government plan to conserve energy as demand for power surges amid strong economic growth. Clocks will turn back on March 16.
The Argentine government plan was passed by Congress this week but in future the dates for daylight savings will be set without congressional approval. Officials say the measure is likely to take effect again next October. The energy conservation strategy was unveiled last week and includes installing energy-saving light bulbs in public buildings, using less air-conditioning, turning off equipment at night, and cutting decorative lighting in public spaces. Argentine Planning Minister Julio De Vido said the government aimed to reduce electricity use by 6% from the average amount consumed in 2007. Argentina was forced to ration natural gas and power to major users during the winter months of June and July, putting a temporary dent in industrial production growth to ensure residential supplies. Demand for power also tends to jump during the summer as the use of air-conditioning increases. As demand for energy surged in recent years, Argentina was forced to slash its natural gas exports to neighboring Chile, increase natural gas imports from Bolivia and buy electricity at peak times from Brazil and Uruguay. Largely frozen public utility rates and fuel prices dampened private investment in the energy sector, and the Argentine government has been working to regain lost ground by expanding and building new power plants.