Damaged Antarctic cruise takes refuge in Chilean base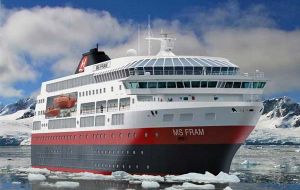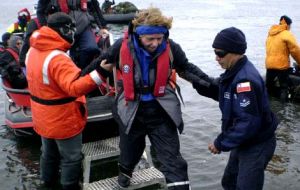 The Norwegian flagged cruise vessel MS Fram with 318 passengers on board drifted into an iceberg in Antarctica overnight Saturday but there were no injuries and passengers were reported to be calm. The vessel is currently anchored next to Chile's President Frei Antarctic base in King George Island.
According to the Norwegian Coastal Voyage Group, Hurtigruten, in Narvik, the accident was caused by engine failure. The crew was able to get the engine started again outside Browns Bluff, the company said. Reports insist that the vessel had not hit the iceberg "particularly hard", and had only sustained superficial damage to the vessel including the crushing of a lifeboat. "It was just after finishing a planned landing at Browns Bluff that the incident happened at 0930 local time", according to the company statement. Safety procedures where started and all passengers where assembled, the statement said. It was then decided to go to the Chilean airbase Frei where "investigations of the damage and the reason for the engine trouble would be discussed", the company said. After this it would be decided whether to go directly to Ushuaia or continue the cruise with planned arrival in Ushuaia January 2. "We hit a glacier. We have damage to a starboard lifeboat and a little bit forward" said the Fram captain Steinar Hansen. A power outage which lasted 40 to 50 minutes sent the vessel adrift against the glacier, where it spent "a few minutes" bumping up against the wall of ice before power was restored. The MS Fram is the latest addition to the Norwegian Coastal Voyage Group's fleet and is specially adapted for Polar cruises. The cruise vessel left Ushuaia in Argentine Tierra del Fuego on December 25. Last November 24, the MS Explorer, an adventure cruise vessel operated by a Toronto company, hit an iceberg off Antarctica, forcing its 154 passengers and crew into lifeboats in the middle of the night. They waited more than three hours before they were rescued by another cruise ship in an operation coordinated by the Chilean and Argentine navies. MS Fram was built in 2007, has a gross tonnage of 12.700, 114 meters long and 20 meters wide. She has 318 berths and capacity for 25 vehicles. According to its promoters she was specially designed for cruising arctic waters and has a Nordic feel. Since she spends the summer months cruising the Greenland Sea the MS Fram is decorated with works by esteemed Greenlandic artists. The cabins are stylish and comfortable, and feature two lower berths or a twin-sized bed, private bathrooms with hair dryers. Each is fitted with air-conditioning, heating, and a smoke alarm. There are a variety of suites and junior suites with queen-size beds and TV. She offers a comfortable restaurant, two well-stocked bars, panoramic lounges, Internet café, and conference rooms. She also features a library with a selection of books about polar regions, a fitness room, a sauna, two heated outdoor Jacuzzis, a gift shop purveying souvenirs, postcards, stamps, and other personal amenities.