Rescuers ready to pick up freed FARC hostages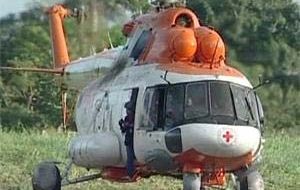 Venezuelan President Hugo Chavez sent two helicopters into Colombia on Friday on a delicate mission to pluck three hostages from the rebel-held jungle.
The operation has begun. With these two helicopters goes great hope," Chavez said as the two Russian-made MI-172 helicopters lifted off, bearing Red Cross insignia and Venezuelan flags. "We're going to get those three people in the coming days." Wearing the red beret and fatigues of his paratrooper days, Chavez was accompanied by American filmmaker Oliver Stone and a group of international observers at the Venezuelan airstrip. Chavez called the mission "Operation Emmanuel," after the captive child who is believed to be the son of hostage Clara Rojas and a guerrilla fighter. Colombia's U.S.-allied government agreed to allow the helicopters to land south of Bogota and then take off Saturday morning to pick up former congresswoman Consuelo Gonzalez, Rojas and the boy, who is thought to be 3 years old. The women have been held captive for about six years. "I'm hoping it works," said Stone, a fan of the socialist leader who said he was there to film "a documentary about Latin America and also about North America." "There are some good Americans. That's why I'm here," Stone added after Chavez joked that he was an "emissary" from U.S. President George W. Bush. Chavez said former Argentine President Nestor Kirchner and the other observers would follow the helicopters to Villavicencio, about 50 miles south of Bogota, as soon as the Venezuelans receive word from the guerrillas about where to pick up the hostages. "Tomorrow begins the second phase â€" which is the rescue of our compatriots and our little compatriot Emmanuel," Chavez said. The International Committee of the Red Cross is helping coordinate the handover, and Colombia's top peace negotiator, Luis Carlos Restrepo, said his government fully supports the mission and would keep its military operations from interfering. For security reasons, Chavez said, the rebels have demanded that the Venezuelan pilots not be told where they will fly until they're airborne. The secrecy reflects the mistrust of both sides in Colombia's civil conflict. The Revolutionary Armed Forces of Colombia, or FARC, has been fighting for more than four decades, and its guerrillas are dispersed in remote camps in the jungles and countryside. Rojas, an aide to former Colombian presidential candidate Ingrid Betancourt, was kidnapped along with the French-Colombian politician and her pending release has raised hopes for relatives of Betancourt and dozens of other high-profile hostages, including three Americans. The FARC's decision to release the hostages to Chavez has enabled the socialist leader to reassume a mediating role Colombian President Alvaro Uribe abruptly ended last month after accusing him of overstepping his mandate. Chavez hopes to broaden this role and take "a first step to open a door toward the path for Colombia to have peace soon." Thanks to aggressive American intelligence sharing backed by US$600 million (euro400 million) in annual military aid, Colombia's security forces have pushed the FARC into a strategic retreat. They can no longer concentrate in large numbers without being detected, and tend to use human couriers rather than cell phones or other technology that can be spied upon. While turning over the hostages, the FARC will try to give away as little information as possible about their whereabouts, said Alfredo Rangel, director of the Security and Democracy Foundation, a Bogota think tank. The guerrillas "above all are going to make sure to prevent this operation â€" or information that could be deduced about them â€" from being used militarily by the government," said Rangel, who predicted that the captives will be delivered far from the camps where they were held.