Norwegian vessel continues cruise and arrives Ushuaia Jan 2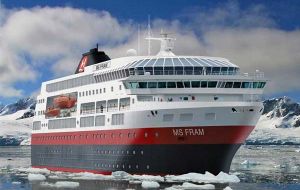 The captain of the Norwegian cruise vessel Fram which hit an iceberg in Antarctica confirmed Sunday that the cruise would continue as planned. The passengers are due to fly home after a planned arrival in Ushuaia on January 2.
The cruise ship which had 318 passengers on board drifted into an iceberg in Antarctica overnight Saturday but there were no injuries. The accident was caused by engine failure, according to the Norwegian Coastal Voyage Group, Hurtigruten, in Narvik. The crew was able to get the engine started again outside Brown Bluff, the company said, claiming that passengers had remained calm. The captain had mustered the passengers and some of the 71 crew members on board to the upper deck. However, according to Norwegian media reports, passengers said that there had been some "nervousness" on board. "Our impression was not that the crew was in control", passenger Erling Hene was quoted as saying by Oslo daily VG. The cruise company had said that the ship had not hit the iceberg "particularly hard", and had only sustained superficial damage to the vessel. "It was just after finishing a planned landing at Brown Bluff that the incident happened at 0930 local time" according to the company statement. Safety procedures were started and all passengers were assembled, the statement said. It was then decided to go to the Chilean Antarctic base Presidente Eduardo Frei at King George's Island where an investigation into the damage was conducted, the company said. Once clearance from insurance was received the cruise was resumed. Among the passengers on board the Norwegian cruise were former US Indiana State Governor Joe Kernan and his wife, Maggie, reports the US press. Kernan said that after the ship lost engine power, the wind pushed it up against the glacier and left it "locked there" for about a half-hour. He described the situation as "scary" because nobody knew what might happen. "The boat hit the glacier and we were locked up against the glacier, the wind was holding us there, for about a half an hour". The MS Fram is the latest addition to the Norwegian Coastal Voyage Group's fleet and is specially adapted for Polar cruises.