The inconvenient truth of global change marked 2007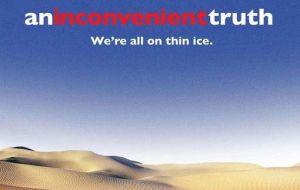 It can be said that the year that is coming to an end will be remembered for the weather related erratic news and the Nobel Peace Prize jointly shared by the United Nations Intergovernmental Panel on Climate Change and environmental campaigner former US vicepresident Al Gore that helped turn public opinion awareness into global concern.
The chairman of the Norwegian Nobel Committee said the winners had been chosen "for their efforts to build up and disseminate greater knowledge about man-made climate change and to lay the foundations for the measures that are needed to counteract such change". Al Gore's documentary "An Inconvenient Truth" won an Oscar and he shared the Nobel Peace Prize with the Intergovernmental Panel on Climate Change, an international group of thousands of scientists. The climate panel, organized by the United Nations, released four major reports in 2007 saying man-made global warming was incontrovertible and an urgent threat to millions of lives. And 2007 seems to have fully confirmed such changes. January was the warmest first month on record worldwide, 1.53 degrees above normal. It was the first time since record-keeping began in 1880 that the globe's average temperature has been so far above the norm for any month of the year. And as 2007 drew to a close, it was also shaping up to be the hottest year on record in the Northern Hemisphere. England had the warmest April in 348 years of record-keeping there, shattering the record set in 1865 by more than 1.1 degrees Fahrenheit. But there were other unexpected phenomena. A tornado struck New York City in August. In the Middle East, an equally rare cyclone spun up in June, hitting Oman and Iran. Major U.S. lakes shrank. South Africa got its first significant snowfall in 25 years. And on Reunion Island, in the middle of the Pacific, east of Africa, nearly 155 inches of rain fell in three days, a world record for the most rain in 72 hours. And the Artic shattered records for the amount of melting ice. Through the first 10 months, it was the hottest year recorded on land and the third hottest when ocean temperatures are included. Smashing records was common, especially in August. At U.S. weather stations, more than 8,000 new heat records were set or tied for specific August dates. Across Europe this past summer, extreme heat waves killed dozens of people. And it wasn't just the heat. It was the rain. There was either too little or too much. More than 60 percent of the United States was either abnormally dry or suffering from drought at one point in August. In November, Atlanta's main water source, Lake Lanier, shrank to an all-time low. Lake Okeechobee, crucial to south Florida, hit its lowest level in recorded history in May, exposing muck and debris not seen for decades. Lake Superior, the biggest and deepest of the Great Lakes, dropped to its lowest August and September levels in history. In one March day, Southern California got torrential downpours, hail, snow and fierce winds. Then in the fall came devastating fires driven by Santa Ana winds. Australia, already a dry continent, suffered its worst drought in a century, making global warming an election issue. On the other extreme, record rains fell in China, England and Wales. But none of those events worried scientists as much as what was going on in the Arctic in the northern hemisphere summer. Sea ice melted not just to record levels but far beyond the previous melt record. The Northwest Passage was the most navigable it had been in modern times. Russia planted a flag on the seabed under the North Pole, claiming sovereignty. The ice sheets that cover a portion of Greenland retreated to an all-time low and permafrost in Alaska warmed to record levels. Meteorologists have chronicled strange weather years for more than a decade, but nothing like 2007. It was such an extreme weather year that the World Meteorological Organization put out a news release chronicling all the records and unusual developments.