Ban Ki-moon struggles to raise UN profile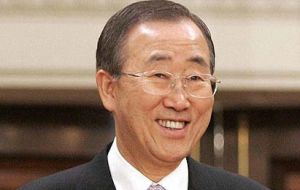 Flying 350,000km and visiting 39 countries, Ban Ki-moon has put tireless energy into his first year as UN secretary-general but has struggled to raise the profile of the much-criticized body.
While pursuing an agenda headed by climate change and the crisis in Darfur, he has spent an unwelcome amount of time fending off critics of a closed management style they say comes from his native South Korea. As the year ends, diplomats and analysts give Ban, a former South Korean foreign minister, good marks for persistence, but say many member states find his decision-making secretive and the man himself lacking in vision â€" charges he rejects. Ban, 63, is seen by UN staff as a workaholic but has suffered from communications problems, his fluent but strongly accented and at times clumsy English contrasting with the suave and eloquent manner of his predecessor, Ghanaian Kofi Annan. In practice, Ban has put his most visible effort into raising awareness of the threat from global warming and seeking to put in place a 26,000-strong peacekeeping force to end the four-and-a-half-year-old conflict in Sudan's Darfur region. Analysts said it had taken courage for Ban to push the environmental agenda, given that his backers in Washington are the chief opponents of specific greenhouse gas emissions caps. But diplomats questioned whether he could pursue that role as the climate change negotiation phase gets under way. On Darfur, Ban persuaded Sudanese President Omar Hassan al Bashir to agree to the proposed UN-African Union peace force and on a visit to the region in September announced peace talks the following month between Khartoum and Darfur rebels. But the talks, boycotted by key rebel groups, got nowhere and the peace force, supposed to assume authority tomorrow, is beset by a lack of key equipment and by bureaucratic hurdles posed by Sudan that are seriously delaying deployment. Critics say Ban should have used the good relationship he says he has developed with Bashir to press the Sudanese leader far harder to smooth the way for the peacekeepers. Ban calls himself a pragmatist. According to Edward Luck of the International Peace Academy think tank, recently appointed a part-time adviser to Ban, "The secretary-general made clear at the outset he was more interested in focusing on results rather than rhetoric, performance rather than headlines." But one Western envoy said: "We need an overall picture from him as to what he wants to do with the organization over the next couple of years. We don't get that overall picture."