Pope calls peace 'divine gift' in New Year's mass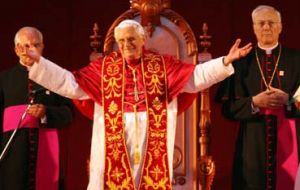 Peace is a "divine gift," Pope Benedict XVI said Tuesday in his traditional New Year's Day mass, stressing the role of the family as an agent of peace.
Celebrating the mass before the Vatican diplomatic corps as tradition dictates, the pontiff said in his homily: "We all aspire to live in peace, but true peace... is not simply a human achievement or the fruit of political accords. It is first and foremost a divine gift to pray for constantly." Recalling that the UN General Assembly published the Universal Declaration of Human Rights six decades ago, Benedict noted that 2008 is also the 25th anniversary of the Holy See's Charter of the Rights of the Family. "In the light of these important measures... I ask every man and every woman to become more aware of the shared belonging to the sole human family and to commit themselves to it" on a path towards "true and lasting peace," the 80-year-old pontiff said. "The natural family, founded on marriage between a man and a woman, is the cradle of life and love and the primary and indispensable conduit of peace," said the leader of the world's 1.1 billion Catholics. "Negation or restriction of the rights of the family ... threatens the very foundations of peace," he said on the day Catholics have observed as a World Day of Peace for four decades. Later Tuesday in his first Angelus blessing of the year, the German pope spoke again on the same theme, addressing pilgrims in a sun-drenched St Peter's Square from a window in the apostolic palace. "Whoever attacks the institution of the family, even unconsciously, weakens peace," he said. An annual peace march organized by the Catholic charity Sant'Egidio brought some 20,000 people to the famous square to hear the New Year's Day Angelus. The charity sponsored similar events were held in at least 65 countries. Benedict singled out Sant'Egidio for praise for the Rome-based group's "Peace in All Lands" campaigns. A rally in Madrid by hundreds of thousands of Spanish Catholics in defense of the "Christian family" on Sunday heard a message from Benedict underscoring the "sacred value of the family." Also Sunday, in the pope's last Angelus of 2007, he said Jesus Christ, by "entering this world the same way as all men... sanctified the reality of the family." Recalling frequent remarks by his predecessor John Paul II, Benedict said the "well-being of the individual and society is closely tied to the good health of the family."