Chile's Defence minister and top brass visit Antarctica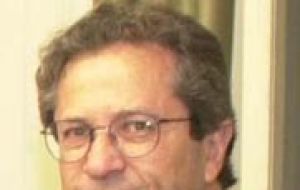 Chile's Minister of Defence Jose Goñi together with the commanders of the three services and Carabineros called in Punta Arenas before flying to Antarctica on Thursday.
The delegation is scheduled to remain in the Eduardo Frei base, King George Island, four days and from there visit other Chilean Antarctic bases and stations. "The idea is to see how developments are evolving because Antarctica has become very important, and lately even more following on the claims from different countries", said Air Force chief Air General Ricardo Ortega. Britain, France, Denmark, Canada, Norway, Russia, Argentina, Chile, Australia, New Zealand are among countries which have announced an interest in presenting sea bed claims off shore Antarctica or in polar regions. Minister Goñi visited Antarctica last November together with Air General Ortega when it was announced that Chile would reopen the Arturo Pratt base which a few years ago had been dismantled. Air General Ortega who a few weeks ago presided over the dismantling of Chile's powerful Air Force fighter bomber Group 4 in Punta Arenas, following the decommissioning of the Mirage Panthers, said that the service would soon be incorporating strategic transport Aribus 310 plus a new generation of helicopters. The Air Force station in Punta Arenas currently has Bell 412 and UH-1H choppers and is planning to incorporate the latest models of Bell 412.