Plume of ash and gas from Chilean volcano drifting to Argentina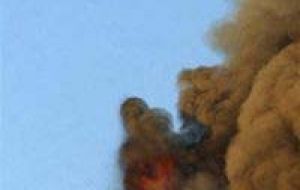 The eruption of Llaima, one of the most active volcanoes in Chile has had an impact in the neighboring province of Neuquén, Argentina, where a yellow alert is on and an emergency plan has been elaborated.
Regular flights to Neuquén and Rio Negro provinces have been delayed because winds are drifting the volcano's ashes and gases over Argentine territory. Although Chilean authorities said the Llaima volcano situation seems to have "stabilized", Argentine officials estimate 50.000 people could suffer the consequences of the ashes and fumes winds are drifting eastwards. "We're taking all the necessary steps to avoid personal risks and fortunately so far no human lives losses have been reported", said Chilean president Michelle Bachelet. Chile's National Emergency Office said activity had decreased and so had the explosions and rocketing of material into the air, although the 12.000 meters plume of ash and fumes continue. "Neighboring authorities in Argentina have been informed of the situation", said Carmen Fernández head of the Emergency Office. Contrary to what happened on January first when the violent eruption begun, on Tuesday a dense fog obstructed vision of the 3.215 meters high volcano, located in the Conguillío National Park in south Chile. "There are no signs yet of an increased risk" said Carmen Fernandez adding that "there is some flow of lava, but not in a continued manner yet". However if the volcano keeps erupting, authorities may have to evacuate 6,000 people from the nearby town of Melipeuco, Fernandez said. The lava flow has melted snow and swollen nearby rivers. That has raised fears of flooding, with the water already blocking one road. Llaima last erupted in 1994 and showed activity last May. Meanwhile Aerolineas Argentinas and Austral in Argentina reported that flights to and from Neuquen have been delayed because of the volcanic ash and warned that if conditions continue the Viedma airport in Rio Negro could also suffer similar delays.