Political upheaval in Chile: Interior minister resigns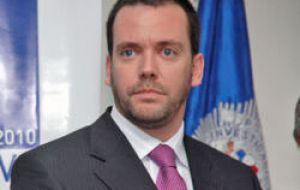 In the midst of the popularity slump confronted by Chilean president Michelle Bachelet and unrest inside the ruling coalition, Interior Minister (Home Secretary) Belisario Velasco resigned on Thursday, anticipating a third cabinet renewal since the current administration took office.
According to the Santiago press President Bachelet accepted the resignation and reported that there are insistent rumors of further ministerial changes. "The president said that a second half was beginning. We had a very pleasant meeting this afternoon, during which I presented my indeclinable resignation to the post of Minister of Interior and given its characteristics it was accepted", Velasco told the press. Presidential Palace spokesperson Francisco Vidal said that as of Friday Deputy Interior minister Felipe Harboe would temporarily occupy the vacant post. Mr. Velasco had been on the post for a year and a half replacing former minister Andres Zaldivar. "The truth is I tried to do the job the most efficiently possible", said Velasco. Apparently Mr. Velasco felt he had been marginalized from some crucial political decisions, particularly the scheme to finance, until next April, the money loosing and controversial Santiago transport system, Transantiago. The cabinet crisis comes as at a bad moment for Socialist President Bachelet that has seen her public opinion support erode to below 40%, has suffered the loss of the majority in the Senate, faces growing conflicts with labor complaining about her economic policies and unrest from indigenous movements. Precisely on Thursday Mapuche Indians trying to reclaim farmland they say belonged to their ancestors clashed violently with police in southern Chile leaving one protester dead. "There's no need for speculation, I'm reporting what the President has instructed me. A decision has been taken, and what really matters is that any future decisions belong to the President when and how she feels it's appropriate". Vidal added that "ministers are of the exclusive trust of the President, she names them, she asks them to resign or accepts their resignations and there's no other alternative". Spokesperson Vidal is also a freshman on the job since he replaced Ricardo Lagos Weber, son of former president Ricardo Lagos, who resigned to his job December 5.