Falkland Islands: Weekly Penguin News Update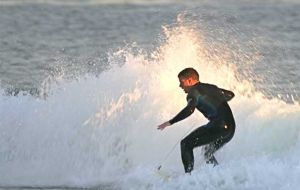 Headlines; Surf's up!; Tamar FI breakdown: meat export concerns; New boss at FIGAS has Islands link; FGML closes Falklands operation; ASSI team to assess under-threat airstrips.
Tamar FI breakdown: meat export concernsTHE continued breakdown of the coastal shipping vessel Tamar FIis presenting a risk to the operation of the abattoir. The ship has been out of action since she lost the use of a compressor last week - after she ran aground near Keppel Island. The abattoir's export season is now under way and this is a crucial time for the movement of sheep from West Falklands to the abattoir, a task to which Tamaris integral. However the ship, which belongs to the Falkland Islands Development Corporation (FIDC) cannot function without two compressors, the lack of which means there can be no control of the engine from the bridge. A replacement compressor was ordered and arrived on Wednesday's airbridge flight - but it was the wrong size. General Manager of FIDC, Mark Brunet, said old-style compressors were no longer produced so they had to go for a new design, and it had been "challenging" to find replacements. He commented: "Despite the terrific help we have had from many people locally, we have been unable to find anything here to do the job. "Our ship managers in the UK have been working on alternatives. Although we supplied the correct information, there has unfortunately been a slip up in the UK and what was supplied is not compatible with our needs." Mr Brunet said FIDC and its ship managers were trying to work out how to resolve the problem quickly: "We are doing all that we can to ensure that we get Tamaroperational as soon as we can." He added that FIDC was working closely with the Falkland Islands Meat Company (FIMCo) to minimise the effects of the loss of Tamaron the meat export season which began this month. Around 2,000 sheep were due to be shipped from West Falkland to the abattoir this week. Mr Brunet commented: "We are hopeful that there will be little significant economic impact. We are looking at contingencies but the options are limited. "You cannot carry sheep loose on the [Ministry of Defence supply ship] St Brandan - it isn't fitted for animal pens like Tamaris." Abattoir manager John Ferguson agreed that the St Brandanwas an unsuitable option for moving the sheep - instead, he said, he was working on other ways to keep the abattoir operating. Yesterday afternoon he reported: "It costs many thousands of pounds a day to run the place - you have a hungry beast and you need to feed the machine - the impact is severe when that doesn't happen. "I've been scratching around as much as possible to source animals on East Falklands but to change at short notice is not easy." Mr Brunet said FIDC was aiming to get the Tamarout of town on Wednesday next week, "if that is humanly possible." Mr Ferguson commented: "We have managed to keep going this week but the way it's looking at the moment, by the middle of next week we will run out unless we can find more animals from the East." He said the situation was looking "problematic at best." Around three quarters of FIMCo's product has been pre-sold at higher prices than last year, Mr Ferguson said, but time is limited for getting the meat to market. He commented: "We have supply contracts with dates - one or two days doesn't affect it much, but more than that and we're not in a good place." New boss at FIGAS has Islands linkIT LOOKS as though the Falkland Islands Government Air Service (FIGAS) has a new manager. Subject to contractual arrangements being concluded, Shaun Minto is due to arrive in the lands on February 9 to take up the position of General Manager. He will be joined later by his wife and young son. Mr Minto's mother is a Falkland Islander who emigrated to New Zealand in 1962. FGML closes Falklands operationFALKLANDS Gold and Minerals Ltd is packing up and leaving the Islands. In November the company announced that if, by the end of the year, no economically significant mineralisation had been identified in the Islands then it intended to deploy its remaining cash balances, and a fully equipped and experienced exploration team with two drill rigs and ancillary equipment, to prospective areas elsewhere in the world. Yesterday FGML confirmed that the company had not been able to identify any mineral deposits of economic interest and that its exploration programme in the Falklands had been "completed". ASSI team to assess under-threat airstripsTHE decision on whether three island airstrips will be allowed to remain in use will be considered by a small team from Air Safety Support International (ASSI) who visit later this month. Maria Boyle, the Policy Quality and Standards Manager for ASSI, and Doug Akhurst, an Independent Flight Operations Consultant, arrive on January 26 for two weeks. Director of Civil Aviation, Andrew Newman, said Ms Boyle will be accompanying Mr Akhurst whilst he carries out a review of FIGAS flight operations to "marginal" Camp airstrips, particularly New Island, West Point Island and Beaver Island. The airstrips of those three islands were restricted solely to "servicing the essential social needs of the islands" in December, as a result of ASSI regulations.