Speculation over Fed rate cuts spurs Wall Street and Latam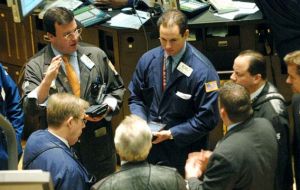 Shares in Wall Street gained ground at last moment trading on expectations of further interest rates cuts this week when the Federal Reserve meets on Wednesday to consider steps to help prop the US economy.
The benchmark Dow Jones index gained 1.45% or 176.7 points to 12,384, while the broader S&P 500 and technology heavy Nasdaq rose 1.75% and 1%.But worries over economic growth in Europe and fears over the health of the banking sector after a fraud at Societe Generale hit shares in the region. The UK's FTSE 100 closed 1.3% lower, while France's Cac was down 0.6%. Germany's Dax index meanwhile reversed earlier losses to finish at almost the same level as at Friday's close, up 0.03% at 6,818.85. Confidence over a sharp interest rate cut from the current level of 3.5% increased after a government report showed new US home sales had slumped at a record 27% pace in 2007. The hope is that lower interest rates will help banks offer lower lending costs to businesses and consumers and revive economic activity. But earlier, gloomy sentiment hung over Asian stock markets. In Japan, the Nikkei 225 had finished down 4%. Hong Kong's Hang Seng index closed down 4.3%, while Mumbai's Sensex finished 1.1% lower. Many analysts are expecting a sharp cut in US interest rates when the Fed, the US's central bank, makes its next scheduled decision on Wednesday. Last week it reduced rates to 3.5% from 4.25% in an emergency move. Last week began with big stock market falls on growing worries over the US economy, only for them to recover later in the week through a 150 billion US dollars stimulus plan agreed between the US Congress and the Bush administration. In Latinamerica Monday trading was in line with Wall Street expectations with the Argentine Merval gaining 1.06%; Brazil's Bovespa, 1.97%; Mexico's IPC, 1.04% and Chile's IPSA, 0.42%. Lower US interest rates means many funds could look for better yields in emerging markets that offer relative stability as is the case of Latinamerican stock markets, even when those economies could be highly dependent on the performance of the US economy.