Venezuelan military 'on alert' for possible Colombian threat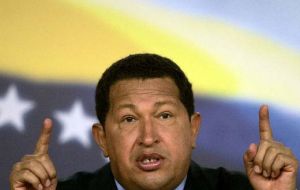 President Hugo Chavez said Venezuela's military is on alert for possible threats from Colombia, warning the neighbouring government not to try to stir up an armed conflict.
Chavez said he believes Colombia's government is capable of doing Washington's bidding in trying to generate a conflict. "We're on alert. The Bolivarian Armed Forces (of Venezuela) are on alert," Chávez said in a televised speech this weekend. "Because we don't know how far it could go." "We don't want to hurt anybody, but no one should make a mistake with us," Chávez said. He did not elaborate but warned that if Colombia attempts any "aggression" against Venezuela with US backing, "they will regret it for 100 years." Chávez's comments largely echoed his accusations a week earlier, when he accused the US and Colombia of plotting a "military aggression." Chávez has repeatedly accused Washington of plotting to oust or kill him, claims US officials deny. "Unfortunately in Colombia the oligarchy governs," Chávez said. "It's possible that Colombian government could lend itself to a military action against Venezuela." Chávez issued his warning Saturday in a wide-ranging speech marking the ninth anniversary of his inauguration as president. He also reviewed his government's accomplishments in poverty-reduction efforts and areas from education to health care. He said Venezuela should enforce broadcast rules with a "hard hand," and warned â€" as the country confronts sporadic shortages of some basic foods â€" that any companies hoarding food would be seized by the government.