Brazil seeks to modernize submarine Force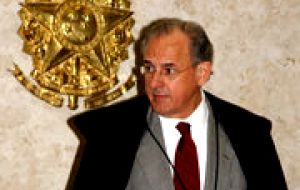 Brazil's dreams of becoming the first Latin American country to operate a nuclear submarine were reportedly discussed during a late January visit by defense minister Nelson Jobim to France.

Long-dormant plans to enter the nuclear submarine club were recently revived by Brazil, which already has a modest submarine-building capability.
The Associated Press and Reuters reported that Jobim discussed the possible purchase of a non-nuclear Scorpene-class submarine to improve Brazil's shipyard technology. The Brazilian Folha de Sao Paulo newspaper reported that the Brazilian government wants to build the sub in Brazil at a price of $600 million, paid over 20 years. The government already is spending about $560 million to develop a submarine nuclear reactor by 2015. Jobim was reported by Reuters to have met in Paris on Jan. 28 with the head of DCNS, the state-owned French shipyard that makes the Scorpene. Chile already operates two Scorpenes, while six more are on order for India and two for Malaysia. Brazil also is upgrading its existing submarine fleet. Lockheed Martin's Undersea Systems unit in Manassas, Va., was awarded a $35 million contract Jan. 29 to deliver new combat systems for Brazil's four Tupi-class diesel-electric submarines, the more modern Tikuna, and a shore-based trainer system. Lockheed said in a press release that the modernized systems will "dramatically improve" the ship's war-fighting abilities and make them more capable of operating with U.S. and allied naval forces. The move comes after a recent Brazilian decision to buy Mark 48 Mod6AT heavyweight torpedoes from the U.S. Lockheed's open-architecture systems will modernize the submarines' control, combat management, sonar and fire control and weapons launch systems. The Brazilian submarines are based on the German HDW Type 209/1400 design. The Tikuna was built to an improved design at the navy's Arsenal de Marinha shipyard in Rio de Janeiro and commissioned in December 2005. The Lockheed contract was awarded through the U.S. Navy's Naval Sea Systems Command as part of a foreign military sale.