Super Tuesday: McCain pulls ahead; Clinton, Obama close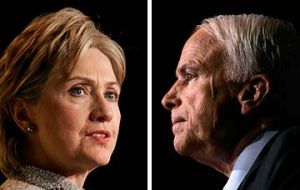 Sen. John McCain jumped to a commanding lead in the Republican delegate race over Mitt Romney on Super Tuesday. Sen. Hillary Rodham Clinton edged ahead of Sen. Barack Obama in the race for Democratic delegates.
McCain won 420 delegates to 130 for Romney and 99 for former Arkansas Gov. Mike Huckabee in incomplete results. A total of 1,023 delegates were up for grabs in 21 states. Overall, McCain led with 522 delegates, to 223 for Romney and 142 for Huckabee. It takes 1,191 to win the nomination at this summer's convention in St. Paul, Minn. Clinton led with 445 delegates to Obama's 409 in incomplete results. A total of 1,681 delegates were at stake in 22 states and American Samoa. Overall, that gave Clinton 706 delegates, to 611 for Obama, with 2,025 delegates required to claim the nomination in Denver at this summer's convention. The AP tracks the delegate races by projecting the number of national convention delegates won by candidates in each presidential primary or caucus, based on state and national party rules, and by interviewing unpledged delegates to obtain their preferences. In some states, like Iowa and Nevada, local precinct caucuses are the first stage in the allocation process. The AP uses preferences expressed in those caucuses to project the number of national convention delegates each candidate will have when they are chosen at county, congressional district or state conventions.